Edinburgh, Edinburgh (Hybrid)
£27,500 - £30,500 per year
Permanent, Part-time, Part-time 28 hours per week, Full-time 35 hours per week, Full-time
Job description
Age Scotland is the national charity for older people with a vision to make Scotland the best place in the world to grow older. They work to improve the lives of people over the age of 50 and to promote their rights and interests by inspiring, involving and empowering older people in Scotland, and by influencing others, so that everyone can make the most of later life.
This fantastic charity believes that everyone, regardless of their age, has the right to lead a rewarding and fulfilling life. With the support of Age Scotland, older people can continue to learn new skills and form new relationships with confidence. They believe that life is for living, and everyone should have the opportunity to live happily and well, for as long as they can.
Age Scotland support and enable hundreds of community groups across Scotland, providing information and advice through their free helpline and publications, tackling loneliness and isolation with their Community Connecting Service and much more.
None of this would be possible without the vital work of their fundraisers.
Working within the Charity Services Team, the new Corporate Fundraiser will work collaboratively on joint funding approaches for potential corporate partners. You will develop and implement a proactive fundraising strategy with the aim of maximising income for the charity whilst achieving annual fundraising targets. The successful candidate will identify and pursue gift in kind opportunities and negotiate contracts which ensure mutually beneficial arrangements with Age Scotland's corporate partners.
Age Scotland's new Corporate Fundraiser will have a proven track record of securing income, generating new business and maintaining strong corporate relationships. The right candidate for the role will also have a talent for writing engaging and impactful communications, and a passion for developing creative ideas to present to companies in support of the charities fundraising goals. Employees enrolled in Multi-Factor Authentication (MFA or 2FA) will be expected to install and maintain the Watchguard app on either their personal or work mobile device.
You are advised to get in touch well in advance of the closing date to give us time to consider your application and pre-interview the strongest applicants.
Closing Date: Midday, Wednesday 6th July
Interview Date: Thursday 14th July
Age Scotland is a living wage employer.
This search is being conducted exclusively for Age Scotland by BTA (Bruce Tait Associates). Our leadership team have all worked in the voluntary sector and we use this experience to match organisations and individuals to create great appointments.
More about BTA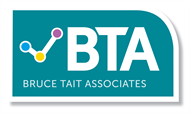 BTA is a one-stop shop that cares deeply about the charity sector in Scotland and throughout the UK. Our mission is to help charities with expe... Read more
Closed date:
14 July 2022 at 14:44