Bristol, South Gloucestershire (On-site)
£23,953 per annum, pro-rata. Actual annual salary £17,885.
Contract, Part-time, Temporary, Fixed-term until 30th November 2023 - Renewal subject to funding.
Job description
Digital Inclusion Project Coordinator
28 hours per week
£23,953 per annum, pro-rata. Actual annual salary £17,885.
Fixed-term until 30th November 2023 - Renewal subject to funding
Although the number of older people who are digitally connected continues to rise, there are still around 5 million people over the age of 55 in the UK who are not online. Age remains the biggest indicator of who's digitally excluded.
We live in an increasingly online world, with many key services moving to become 'digital first'. Since the outset of the COVID-19 pandemic, the role of the internet has become even more important, and for most people, this has changed the way they work, access services, maintain social contacts, and generally live their lives. While many older people have embraced digital technology, there are others who are less confident who are at risk of being left behind.
Age UK South Gloucestershire's new Digital Inclusion project looks to expand on our existing Technology Support provision and aims to deliver a programme to tackle digital exclusion by providing ongoing support for older people to increase and improve their digital skills and through the provision of loan technology to those older people without access. Being digitally included can help older people carry out the activities that matter most to them. It can help them stay connected with family and friends, find activities and support, access essential services, and remain socially connected.
As Digital Inclusion Project Coordinator, you would develop, coordinate and deliver our new digital inclusion support service for older people throughout South Gloucestershire. Duties will include establishing referral routes, publicising the service and matching the Digital Outreach Worker and Digital Champion volunteers to clients. The successful candidate will also coordinate the delivery of a Tablet Loan Scheme to increase access to technology for local older people.
If you have an advanced digital skill set, are patient, flexible, and a good communicator, and would relish the opportunity to positively impact the lives of older people, we would like to hear from you.
Age UK South Gloucestershire offers a generous benefits package, and the charity is committed to equalities, diversity and inclusion and therefore encourages applications from all sectors of the community.
If that person could be you, download an application pack from our website. Applications must be made using the form on our website, and completed application forms should be returned to us directly. Applications will not be accepted when submitted via agencies or other recruitment platforms.
Closing date: 8 am, Monday 11th July 2022
Interviews: Within three weeks of the closing date
More about Age UK South Gloucestershire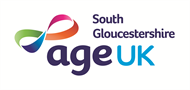 Age UK South Gloucestershire (AUKSG) is an independent local charity that is part of the Age UK national network. We've been working ... Read more
Closed date:
11 July 2022 at 08:00
The client requests no contact from agencies or media sales.