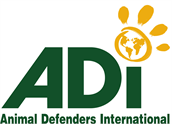 London, Greater London (Hybrid)
£40,000 - £50,000 per year
Job description
Are you a skilled communicator and marketing expert? Want to save animals from suffering and protect our environment?
About us
Animal Defenders International (ADI) exposes captive animal suffering in entertainment, science, food and the wildlife trade and works for legal protection for animals and our environment, worldwide. Other species are our fellow earthlings, with the right to life and to live in their natural space. When governments pass animal protection legislation, we offer support with implementation and rescue.
About the role
We are seeking a talented and experienced marketing and communications professional to develop and grow our charity's brand, increasing public engagement, income and impact, in support of our work to protect animals from suffering. You will help build and lead our digital and social media teams to grow individual donor engagement, activity and retention. Your knowledge of current and emerging marketing strategies will be applied to develop and deliver the marketing and communications plan, public education, awareness, and support our work to engage policy makers, parliamentarians, business and media. You will be working with our teams in London, Los Angeles, Bogota, Lima and our wildlife sanctuary in south Africa on animal protection legislation, our international animal rescues and the ADI Wildlife Sanctuary. You will help to grow a dynamic communications team, providing compelling news stories, creating media relationships. You will closely with our international offices to support delivery of campaign objectives, maintaining consistency of messaging and brand.
Key Responsibilities
Development of marketing and communications campaigns and initiatives to support the charity's work – raise awareness, calls to action and raise funds
Guardianship and growth of brand; raising awareness; consistency of messaging, policy and brand across all communications.
Management of content for ADI digital marketing and communications channels
Production of marketing materials (in house and external); writing and/or editing copy for different audiences
Development of ADI relationships with policy makers, parliamentarians, government, NGOs, and business
Leads the marketing and communications teams
Production of reports for directors and trustees
About You
You are a creative thinker and have a passion for protection of animals and our planet.
You have significant marketing experience, creativity and multi-channel marketing and communications skills; digital, social media, email and CMS.
You can brief external creatives and suppliers.
A storyteller with strong copy writing, editing and proof reading skills, you are able to translate scientific information for a wider audience.
You can build relationships with individuals and organisations.
A team builder with strong communications, teamwork and leadership skills for our London and international teams, with ability to work under pressure.
You have a good understanding of campaign metrics and reporting; can write reports and briefings for working directors and voluntary trustees.
Experience with managing costs, budgets, team building and management.
Although not essential, experience of working for an animal or environmental NGO is desirable.
If you are ready for a new challenge, apply today!
Animal Defenders International
Vox Studios North, 1 Durham Street, London SE11 5JH (hybrid; London office 3 days/week)
Salary: £40–£50,000 p.a., permanent (dependent on experience).
Leave: 20 days p.a., plus national holidays.
Stakeholder pension.
Permanent.
How to apply:
Send email or letter detailing how you meet the criteria set out in the above job specification, together with your CV. You will receive an application form, which forms an essential part of our application process.
Closing Date: Friday, 26 August 2022.
Please apply as soon as possible; we will be reviewing applications as they come in, and interviews may commence on a rolling programme. If we receive a large number of applications, we reserve the right to close this vacancy prior to the closing date.
Virtual/in-person interviews: 29 August 2022 onwards.
Animal Defenders International exists to protect nonhuman animals and work for their legal protection, we therefore expect all employees and volunteers to share this commitment. ADI is committed to providing equal opportunities for everyone and welcome applications from all sectors of society.
Refreshed on:
06 August 2022
Closing date:
21 August 2022 at 23:59
Tags:
Communications, PR, Marketing
The client requests no contact from agencies or media sales.