£40,000 - £45,000 per year
Contract, 1 Year Fixed-term, Full-time
Job description
Job Type:
Contract, Full-time (but we also welcome candidates seeking 4 days/week)
Location: Remote, with occasional travel to London for team meetings, and to UK school locations required
Closing Date for Applications: Friday 15th July 2022
Planned Interview Dates: short video calls with a longlist of candidates will be w/c 18th July, followed by a first interview w/c 25th July and second interview w/c 1st August.
All interviews will be by video call.
Who we are
Apps for Good exists to ensure ALL young people have the tech innovation skills to thrive in an ever-changing world.
We have over a decade of experience providing free tech innovation courses to almost 240,000 UK young people. Our courses give students the skills and determination to shape their future through technology, while giving teachers the support and confidence to deliver high quality computing content and resources.
More than half of the schools we work with are in challenging circumstances and we're committed to offering an opportunity for all. We're proud to partner with leading brands such as Lego, Spotify, and Google to keep our course content 100% free to schools. Students benefit from industry expertise from over 300 industry volunteers
We're now embarking on an exciting new chapter. Young people, especially those with experience of disadvantage, are not learning the skills they need to create innovative solutions to climate change. We have created a new programme, Innovate for Climate Change, building on our existing methodology, experience and networks, so that young people can thrive in a transformed post-carbon economy.
The team
We are a small, close-knit, ambitious and energetic team who all believe strongly in our mission and values. We're currently working very effectively remotely and will continue to be a distributed team with regular days together in London.
The role
We're looking for someone who is passionate about education, social impact and Apps for Goods mission in helping provide more young people with the tech and innovation skills that will prepare them for the future of work.
In this role, you will have the chance to work across Apps for Good's Programmes team and you'll be responsible for day to day line management of our Education Community Manager and Senior Learning Manager, supporting them to deliver their priorities for the year and working with the team to develop plans and strategies for implementation.
As part of a small team, you'll get to work hands-on to develop and deliver our education recruitment strategy, growing and supporting our community of teachers delivering Apps for Good courses across the UK. You will also manage the day to day responsibilities of our Senior Learning Manager and help them deliver their roadmap and priorities for creating exciting and innovative new content for teachers and students. Working closely with our Fundraising and Partnerships team, in this role you will also help organise partner engagement programmes with schools across the UK and companies including LEGO, Spotify and Bank of New York Mellon.
You will be joining Apps for Good at an exciting time as we have ambitious plans to scale the delivery of our new and existing content to schools across the UK, as well as build new and impactful relationships with education providers and partners. If you have experience supporting and growing online communities and have an interest in how tech education can empower young people by providing them with the skills to change their world we want to hear from you.
Specific Responsibilities:
Line manage Education Community Manager and Senior Learning Manager

Strategy development & delivery: support the development and delivery of our education and content strategies including detailed quarter by quarter planning

Work with Education Community Manager to create and implement a plan to grow our reach of schools across the UK

Lead on building strategic partnerships with organisations and education providers and support in the development of engagement products and volunteering opportunities, including workshops and facilitated engagement days with our corporate partners

Project management: work with the wider team to implement funded projects and products
Oversee and support the Education Community Manager to manage all student & school engagement; workshops, Expert Sessions, Showcase pitch practice, Showcase judging sessions, funder/partner visits, filming/comms visits

Track, analyse and report on key education, platform and content metrics, impact and learnings, developing KPI's

Develop and implement strategies in line with our organisation impact framework for effective user research and feedback from teachers and, students to inform and develop programmes and content
Benefits
This is a 1 year fixed-term contract role to support with team capacity whilst our current Director of Programmes moves to an Acting CEO role. You'll work remotely with regular travel to schools, when safe to do so. It's full time but could be four days per week and we'll consider other working patterns. We'll aim to meet in London as a team every quarter. We offer flexible working, 24 days holiday and extra days off over Christmas, plus you get your birthday off.
We are committed to developing our team and supporting their career aspirations. We are incredibly proud that colleagues have gone on to work for organisations such as Pearson, the Government Digital Service, Tech UK, University of Salford, checkout com and Times Higher Education.
We have a long history of flexible and remote working across our team and believe everyone should have a good work/life balance while contributing to work they care about.
We embrace a diverse range of perspectives, skills, experience and knowledge within Apps for Good. Joining a small collaborative team means you'll contribute to a variety of projects and everyone across the team has their voice heard and contributes to our strategy and operations.
Requirements
Enthusiasm for Apps for Good's mission

At least 3 years of experience in one or more of the following areas:

Teaching or leadership within a school

Working in an organisation or charity building relationships with schools and education providers

Programme management within the education sector

Experience managing projects independently, with strong attention to detail and process, and ability to solve problems

Experience line managing individuals and/or teams

Confident networking and engaging with stakeholders at all levels

Great interpersonal and teamwork skills, with the ability to work across the team and with external organisations

Enjoy delivering high quality presentations and pitches to external organisations

Excellent written and oral communication skills

Experience managing data and presenting metrics

Effective time management

Experience of presenting at events/conferences
How to apply
Please submit a CV and around 500 words describing why you'd like to join the team and how you meet the role requirements.
Application Instructions
Please submit a CV and around 500 words describing why you'd like to join the team and how you meet the role requirements
More about Apps for Good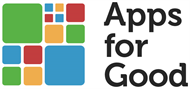 Apps for Good exists to ensure ALL young people have the tech innovation skills to thrive in an ever-changing world.
We have over a d... Read more
Closed date:
15 July 2022 at 23:59
Tags:
Management, Teaching
The client requests no contact from agencies or media sales.