London, Greater London (Hybrid)
£35,000 - £42,000 per year
Job description
Our mission is for all young people to be active, informed citizens, equipped through effective Citizenship Education with the knowledge, skills and experience to participate in and shape a strong and vibrant democracy based on equality, fairness and justice.
We are looking to recruit a skilled and ambitious Marketing Manager to join our small, experienced team to help embed our new brand and promote our exciting new membership offers to teachers and educators, through our revamped web presence, events and activities.
You'll either be an experienced Marketing Manager, or someone looking to step up into this role to deliver effective marketing strategies that will build awareness, prompt action and develop deeper connections with our members and key stakeholders. We have ambitious plans to grow membership over the next 3 years, and seek a bright, capable marketing professional with a can-do attitude to ensure our marketing is engaging, accurate and inspires interest with prospects and action with our members.
The ideal candidate will have demonstrable experience in delivering email campaigns, direct mailings, and/or telemarketing programmes - ideally within the schools and education sector. They must be comfortable with using data, performance tools and tactics to improve our inbound and outbound marketing. The post-holder will have excellent personal organisation and data administration skills, with a high level of attention to detail and accuracy. This will aid them in overseeing the database development, coordinating targeted activities and updating the website. You will be flexible and dynamic, with an ability to adapt and respond quickly in a changing environment.
There is a genuine opportunity to grow the role and provide real impact across our community of teachers, as we prepare to launch ACT's new engaging brand and enhanced membership packages, on a modern user-friendly website. For more information about our work please visit our website.
Overview of the role
Working as part of a small team, you will primarily work on meeting annual school membership income targets, event and digital content marketing. You will proactively increase membership retention and recruitment and drive member engagement. You will lead on marketing ACT, and its membership benefits, services, and products to both current and potential members.
Key responsibilities
Marketing:
To develop strategies and tactics to raise awareness of ACT, its benefits, products, and services, to drive membership uptake from teachers, schools and MATs and implement them day to day.

To plan and target communications to non-members who have attended an ACT event or training to convert to members

To identify and exploit external opportunities to promote ACT membership, such as via trusted third parties or events

To develop online and offline marketing materials such as letters, flyers, e-newsletters etc. and work with external suppliers e.g. designers, printers, etc.

To analyse available data within our CRM to plan and implement regular membership communication and recruitment campaigns to convert potential members to members

To identify other organisations as possible partners for recruiting new members

To conceive, create, analyse and report on marketing strategies

To identify partners/sponsors who may fund memberships/activities

To ensure all communications are as accessible and inclusive as possible.
Membership engagement:
To provide exemplary customer service to all prospective and current members

To develop and implement strategies and tactics to deepen member engagement with ACT's benefits, events, products, and services

To help strengthen engagement with members throughout their membership lifecycle including targeting low engaged members, and promoting organisational membership

To attend ACT events, in person and online, to meet and engage with members

To develop and engage members within online communities (website and social media)

To work with colleagues to advance the digital experience from a user and staff perspective, and troubleshoot any issues

Plan and develop digital content (news, blogs, case studies) to support messaging

To collate endorsements and testimonials from existing and new members

Represent ACT and its membership voice at external meetings.
Person specification
This role will suit someone who is personable, has a can-do attitude, is good at working
under their own initiative and enjoys working as part of a small team. You will be flexible
and dynamic, with an ability to adapt and respond quickly to a fast-changing environment.
The post-holder should have the following skills and experience
Essential criteria:
Degree or equivalent work experience

Exemplary team-worker with collaborative outlook

Excellent communications skills, including experience of developing content for print, websites, email communications and social media (Twitter, Facebook, LinkedIn)

Technically competent with using business IT (Google/Microsoft/CRM) and marketing tools (Google Analytics, AdWords, bulk email software, website CMS)

Proficient using CRM, databases and spreadsheets to manage and analyse content and data

Excellent verbal communications skills, with the ability to build rapport and influence others

Experience of managing relationships with stakeholders and suppliers (e.g. teachers, schools, colleges, organisations and external suppliers including website/digital/ communications agencies)

Excellent personal organisation and data administration skills, with a high level of attention to detail and accuracy

Target-driven with ability to self-manage and respond to competing priorities

Interest in Citizenship education and commitment to working within the education/charity sector to support our mission.
Desirable criteria:
Experience of working within the education or charity sector

Using digital engagement to build membership and networks

Experience of managing people, events and/or projects

Experience of using Wordpress CMS, finance systems and design software

Experience of presenting and managing meetings online or in-person

Creativity to design marketing assets and utilise post-production skills.
Additional benefits
35 hours per week (excluding lunchtime). Core office hours are between 08:00-18:00, Monday to Friday, with some out of hours work required. There will be occasional travel within the UK and Ireland.
25 days holiday per annum, plus bank holidays
6% employer contribution to NEST pension scheme.
Download the application pack for further details regarding this exciting opportunity to kick-start ACT's new-look marketing.
Thank you for your interest in supporting our organisation with this role.
Application Instructions
To be considered for this role you will need to upload:
i) An up-to-date copy of your CV
ii) A cover letter that addresses the person specification, but your letter should be no more than three A4 pages.

Upload both elements of your application through the Charity Job website by 23:30, Sunday 17th July 2022. CVs without cover letters will not be accepted. First round, informal interviews will be held on 22nd July.
More about Association for Citizenship Teaching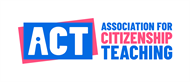 The Association for Citizenship Teaching is the education charity and membership organisation for all those involved in Citizenship education i... Read more
Closed date:
17 July 2022 at 23:59
Tags:
Communications, PR, Marketing
The client requests no contact from agencies or media sales.