Sutton, Greater London (Hybrid)
Job description
Do you work with ambition, dignity, respect, and compassion for children with disabilities? Are you looking for a new challenge? We have an exciting opportunity for a passionate individual to join our team as the Service Lead, delivering a highly regarded Short Breaks service for children and young people with disabilities in the London Borough of Sutton.
Starting Salary: £32,324 (more information regarding our Pay & Reward Framework can be found below)
Location: This is a hybrid working role to include a mixture of home working and locality working in and around the London Borough of Sutton, with the occasional requirement to attend meetings in Barnardo's buildings across London.
Working Pattern: 37 hours worked over 5 days a week. Group sessions are delivered every Saturday during term time, and on a weekday during school holidays (pre-agreed within the staffing team before they are shared with families)
Term Time: 4 working days and 1 non-working during the week, with the core group delivery on Saturday between 9:45am-5:15pm (1 hour unpaid lunch break)
During School Holidays/Half terms: Monday to Friday with the core group delivery session on a pre-agreed weekday between 9:45am-5:15pm (1 hour unpaid lunch break)
Both of the above include occasional targeted outreach support in the community, supporting children against individual targets/goals to improve their independence skills.
Some of the key responsibilities include:
Leading/supervising our Short Breaks team providing support where required.
To deliver and contribute to a high-quality service for children through planning activities against individual support plans, assessing risk and following safeguarding procedures.
To develop nurturing relationships which build on and promote children's independence, wellbeing, strengths, and capabilities.
To work with a child-led, person-centred and wellbeing focussed approach.
To promote, monitor and maintain a safe environment at all times.
Essential Requirements:
Previous experience working with children with disabilities.
Previous experience leading a service/managing a team.
Previous experience planning activities and assessing risk.
Ability to demonstrate a good understanding of safeguarding policies and procedures.
Able to demonstrate your ability to foster positive, professional, and meaningful relationships with children with disabilities, their families, staff and professionals.
It would be helpful, but not essential (as training can be provided) if you have skills or experience in communication tools (such as Picture Exchange Communication or Makaton) and/or in moving and handling.
More About the Service: Our Short Breaks service provides group-based activities for children with disabilities aged 8-18 years. You will be creating safe and stimulating social environments, where children can develop friendships and take part in fun and engaging activities designed to support them to learn and develop skills that support their development towards adult life and independence. Most of all you will be able to provide children with a service they enjoy attending. The service also plays a vital role in providing families and carers respite from their caring responsibilities. Specific training will be provided for meeting particular care needs of children when required.
Please Note: Although this contract has a permanent status, please be aware that this post is subject to funding. Therefore, should this funding not be extended further, you may be subject to a redundancy consultation or a TUPE arrangement.
This role requires the post holder to be physically able to safely carry out work and caring duties with children with disabilities.
When completing your application please refer to your skills knowledge and experience in relation to the Person Specification and Job Description. Please also refer to your safeguarding knowledge, experience and training, with scenarios or examples of how this has been applied, in particular safeguarding children with SEND.
Interested, but would like some more information? Please contact Babette Bleach babette.bleach @ barnardos. org. uk
Due to the high volume of applications for some posts, this advert might close before the displayed closing date. We recommend that you apply for this role as soon as possible.
Pay & Reward Framework
We know that our colleagues go above and beyond in delivering our vital work, driven by their passion and commitment to Barnardo's values. We also know that we can only realise our ambitions and achieve better outcomes for more children, thanks to the talent, hard work and creativity of our people.
For all these reasons, we are committed to a new approach to pay and reward, to ensure it is fair, attractive and progressive, which was rolled out 1st April 2023. This is a positive change for the charity, and a key pillar of our People & Culture Strategy. It will assist us in supporting colleagues to grow and develop in their career at Barnardo's as it will offer clear routes of progression for colleagues to progress through the pay band of their role.
Whilst the full pay band and salary range is advertised, our approach to starting salaries is to appoint between the minimum to mid-point of the pay band – this ensures that pay progression steps are available to reward our colleagues annually based on their contribution to excellence and alignment to our values and behaviours. More details on Barnardo's pay framework can be found upon application.
Benefits
Workplace Offer: What it means for you
The world of work has changed. We are understanding of what works best for our colleagues both current and future as we look to embrace this new way of working. Our hybrid working initiative is based on trust, flexibility and empowerment. We understand our workplace offer means different things to different people, and we encourage those conversations. This may mean working at one of our stores, services, working at home, at one of our Collaboration Hubs or any combination of these.
Barnardo's believe in creating equality of opportunity in the workplace and supporting people to manage their work-life balance; we are therefore open to offering flexible working arrangements.
26 days annual leave plus bank holidays, increasing after 5 years service
The ability to buy up to another 5 days annual leave via our HolidayPlus scheme
A host of family friendly leave options including company Maternity Paternity and Adoption pay; together with all family additional leave options
Service related sick pay from day 1
Access to a Group Personal Pension with a matched 4% or 6% contribution from Barnardo's. Ability to pay via salary sacrifice to garner both tax and NI savings on your own contribution
Death in service cover of 4x annual earnings for all staff contributing to our Group Personal Pension
Cycle2work scheme
Interest free season ticket loans
Discounts and cashback from at high street shops including major supermarkets, cinemas, gyms, leisure/theme parks, holidays and much more via our Benefit Portal
20% discount at Barnardo's stores
Opportunity to purchase a health cash plan to claim towards dental, glasses, therapy etc
Free access to round the clock employee assistance program for advice and support
Access to Barnardo's Learning and Development offer
*T&C's apply based on contract
About Barnardo's
At Barnardo's we believe in children – no matter who they are, what they have done or what they have been through. Please read about our basis and values following the link below. You will be asked questions relating to them as part of the recruitment process for this role.
Our commitment to Equality, Diversity and Inclusion (EDI) is reflected in our values and our practice, and we have invested in this area of our work to ensure that we can deliver on our commitments to be an inclusive employer. EDI is a key enabler of our purpose as a charity and we want to ensure that the diversity of our teams is reflective of the communities we serve and that we continue to learn and develop our work with a focus on inclusion. We particularly encourage applications from candidates from Black, Asian and Minoritised Ethnic Communities, candidates who are LGBT+ and Disabled candidates.
More about Barnardo's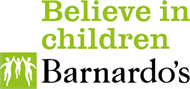 We are Barnardo's. We transform lives.
We've come a long way since our founder, Thomas Barnardo set up a 'ragged sc...
Read more
Posted on:
07 November 2023
Closed date:
28 November 2023 at 23:59
Tags:
Social Care/Development, Advocacy
The client requests no contact from agencies or media sales.