Bermondsey, Greater London (Hybrid)
Job description
BlindAid's exciting SHARE LONDON Project forms an integral part of our overall service pathway for our blind and visually impaired service users. Bring your enthusiasm and join our passionate team based in Bermondsey Street; your role will be based at our head office, but you will also manage your own diary to travel to meet service users and volunteers as needed across 12 inner London Boroughs.
We need an experienced volunteer coordinator/trainer to lead on SHARE LONDON. Our project is funded by Big Lottery Reaching Communities and supports our service users to access all the social events that London has to offer; whether that is getting out for a cup of coffee, a walk in the park, going to a museum, a tactile tour of a theare or going to a concert. Our service users need the vital asset of a competent Sighted Guide Volunteer to share their experience with and help them to navigate.
As the project has been running for almost 3 years, we already have a substantial bank of fabulous, loyal volunteers, who are already matched with service users with similar interests; but we are now seeking to expand our project so we are also recruiting for new volunteers currently.
All our volunteers must be trained as Sight Guides and hold an advanced DBS certificate: if you have not already worked in the VI sector and hold your own Sighted Guide Certificate, we will provide training for you.
You will also work alongside our prestigeous Corporate Sponsors, to train their employee volunteers before they support BlindAid social events.
You will record volunteer activities on our live database, and communicate with volunteers via our WhatsApp Group, and will be equipped with a tablet and mobile phone.
This is a really exciting opportunity to make a real contribution to the work of a vital charity that has 188 years of history, and a real family feel, and to have the advantage of a rewarding career in future.
More about BlindAid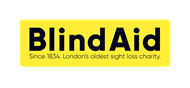 BlindAid's Vision:
We aim to ensure that no visually impaired Londoner is left living in isolation.
Refreshed on:
08 July 2022
Closed date:
18 July 2022 at 23:59
Tags:
Training, Volunteer Management