Leeds, West Yorkshire (On-site)
£32,019 - £37,245 per year
Contract, 3-Months, Part-time
Job description
Starting Salary: £32,019 - £33,526 pro rata.
Contract: 3-month Fixed Term, starting Aug/Sept 2022.
Hours of work: Part time, up to 14 hours/week.
Location: Flexible with potential for remote/home/hybrid working. Candidates would need to travel to locations around Leeds and Sheffield diocese and occasionally to London or elsewhere in England and Wales.
Job Profile
CAFOD's work in the Catholic community of England and Wales is to inspire and resource Catholics to participate in the Church's mission to overcome poverty and injustice in partnership with CAFOD. This is the role of Community Participation Coordinator within Leeds and Hallam but focusing only on the Education aspects of the CPC role in these two dioceses, as detailed below.
The main purpose of this fixed term role is to support a team of Education Volunteers working in school communities across Leeds and Hallam dioceses to enable members of the school communities to connect and understand, give, act and pray. The role will also involve liaising with school staff members with the aim of arranging volunteer visits and furthering the presence of CAFOD in the schools.
Although the working base of this fixed term role is flexible it is expected that the post holder will be mobile and flexible to meet volunteers other stakeholders across Hallam and Leeds. The post holder will also be meeting with other regional team members as required both virtually and face to face. The role requires a willingness to be adaptable to support the work of the regional team, deploying skills, knowledge and at times activity in other parts of the regional team area. This is likely to require some additional travel (which would be reimbursed by CAFOD). The post may very occasionally require a small amount weekend and evening work.
CPCs are accountable for delivering CAFOD's plans locally across England and Wales. Through greater numbers and activity of school volunteers and volunteer co-ordinators, more schools will be visited by a CAFOD volunteer.
The post is 2 days (14 hours) per week but we are open to applications from anyone who is able to offer less time than this. The post reports to the Community Participation Manager for the region.
Key Responsibilities
Delivering participation plans
Share accountability for delivery of annual participation plans for the region (a group of dioceses) with a focus on Education targets in Hallam and Leeds.
Contribute to the development and delivery of a regional plan across a number of dioceses (5) in support of the annual participation plans and appropriate for local contexts
Achieve targets for increasing children & young people participation primarily through recruitment and retention of volunteers
Closely monitor school participation activity
Managing volunteers
Be the local volunteer manager for school volunteers in Leeds and Hallam dioceses.
Coordinate and support the work of volunteers working in partnership with CAFOD to deliver CAFOD's programmes of work within school communities
Contribute to increasing the number and activity of school volunteers and education volunteer co-ordinators in line with the regional team plan
Match the offers, skills, experiences and expectations of volunteers with opportunities and needs in schools of the dioceses.
Ensure existing and new volunteers are appropriately inducted, briefed, trained and resourced
Increase and ensure volunteer retention through induction, support, affirmation and effective management of the volunteer throughout their involvement with CAFOD
Organize volunteer briefings and training opportunities to be delivered by national programme teams
Ensure records for schools and volunteers are up to date on the database and that all relevant participation is recorded.
Managing relationships
Build and maintain key relationships including key individuals throughout the schools and academy trusts within the dioceses.
Contribute to CAFOD's presence on social media and in diocesan and regional press primarily by gathering stories, photos and content of the activity of local school volunteers and schools.
All staff are expected:
To attend and contribute to regular team, group and CAFOD-wide meetings and briefings
To participate in training and other activities as requested by the line manager
To work as a supportive member of the team, providing cover for and training of other team members and volunteers as required
To be accountable for the achievement of objectives set by the line manager
Expectations of the three-month role
Over the course of the three months that this role runs for we would expect the work to primarily involve:
Ensure existing Education Volunteers in the dioceses are well briefed and trained for the term's school visits by the Schools Program Volunteer Coordinator.
Offer volunteer visits to schools and ensure requests for visits by schools are dealt with in a timely fashion and the schools are provided with volunteers who are able to make the visits.
Proactively try to recruit new Education Volunteers and ensure applications from potential Education Volunteers are dealt with in a timely and professional manner and that any new volunteers are sufficiently trained, onboarded and supported, in liaison with the Schools Program Volunteer Coordinator.
Ensure activity and information concerning Education Volunteers and schools is added to our database, with support from colleagues.
Make contact with all Education Volunteers in the dioceses to encourage them to attend briefings and ensure they are well supported and happy with their role and activity.
Ensure good communication with the Schools Program Volunteer Coordinator to ensure smooth running of the program in the two dioceses.
Take opportunities to build relationships with Catholic Multi-Academy Trusts in the dioceses. And support volunteers to do the same
For more information on this vacancy as well as the application process please visit the CAFOD jobspage.
More about CAFOD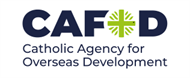 We are CAFOD!
CAFOD is the official aid agency of the Catholic Church in England and Wales, and part of Caritas International. We bel... Read more
Closed date:
20 July 2022 at 09:11
Tags:
Christian, Project Management
The client requests no contact from agencies or media sales.