London, Greater London (On-site)
£35,703 - £40,929 per year
Contract, 12 Months, Full-time
Job description
Starting Salary: £35,703 - £37,210
Contract: 12 Month Contract, full-time
Location: London (Hybrid working option available with a minimum of 40% of your time in the London head Office)
Job Profile
CAFOD is committed to promoting and driving diversity and inclusion. We acknowledge the lack of diversity within our communications team, and we particularly welcome applications from Black and Minority Ethnic backgrounds.
Do you have what it takes to drive proactive and sustained media coverage about our work?
Do you understand the national media landscape, including regional media?
Are you passionate about using storytelling to bring to life our social justice work and help drive change?
If the answer is yes, we would love to hear from you!
An exciting opportunity has arisen for an enthusiastic and energetic press officer to join the media team of one of the UK's largest international development agencies.
Part of one of the world's largest aid networks (Caritas Internationalis) which has a presence in 193 countries, CAFOD is the official aid agency of the Catholic Church in England and Wales. We stand alongside some of the most hard-to-reach communities across Africa, Asia, Latin America and the Middle East, working through the Catholic and secular organisations to reach people of all faiths and none and places that others can't.
We're a member of the Disasters Emergency Committee, we inspire huge trust among our supporters – which we don't take for granted – and we're well known and respected among UK policymakers.
This is a great opportunity as you'll have the chance to get involved in the full range of our work, long-term development programmes, our emergency response, our campaigning and policy work and major fundraising initiatives. You'll build relationships with colleagues across the organisation and with the overseas partners we work alongside and come up with ways to put their voices in front of the media and across all our owned channels.
About you
The ideal candidate will have a strong nose for a story, be proactive about hunting out media opportunities across the full range of our work and will be tenacious about seeing your ideas through until coverage appears.
You'll be comfortable pitching to a range of producers, journalist and editors, will have a sense of what makes a good broadcast spokesperson and be confident helping colleagues to prepare for media opportunities. International development experience is not essential, but you'll be able to show a strong interest in our work and be passionate about helping deliver our mission.
CAFOD offers a range of flexible working options and there is the potential for this role to be undertaken on a hybrid basis (working 40% of the time in our London head office). Interviews to be held Thursday 21st July 2022 in our London head office.
Key Responsibilities
Identifying newsworthy media opportunities, crafting and delivering strong media pitches, securing broadcast interview slots and writing press releases, statements and comment pieces which generate maximum impact.

Organising media interviews, briefing materials and supporting the briefing of spokespeople
Building media relationships and contacts across broadcast, national, online and regional media outlets
Crafting a range of content for our social media channels and ensuring media stories are being designed and pitched with our digital channels in mind from the outset
Collaborating cross-organisationally, influencing teams, and achieving good media outcomes in support of our work

Building strong relationships with teams across the organisation to gain a full understanding of our work and to keep your finger on the pulse of what's happening in the organisation that might be media-worthy
Spotting potential story ideas and developing these, using additional resources if necessary, into compelling media pitches for broadcast, print, specialist and online media
Helping influence and advise colleagues so information and content is gathered and shared to allow the media team to successfully deliver coverage for the organisation
Contributing to the successful day to day activity of the media team

Working alongside the Head of Media and other media officers to ensure resources are appropriately focused on CAFOD's agreed media priorities and key moments
Providing surge capacity where required to support other media officers' briefs and working close with teams across the communications department (including digital and creative content colleagues) to ensure media input into overseas content gathering and to help plan other ongoing communications work
Engaging with our celebrity Ambassador programme providing creative input and ideas for their involvement in key CAFOD fundraising and campaigning moments
Providing input into the multi- channel planning work on content
Playing an essential role in the media team and communications team as a whole, ensuring all media coverage is appropriately logged, media databases are kept up to date and helping to ensure essential media team admin is undertaken
Skills and experience
A nose for a story and a keen insight into news and current affairs
Experience writing key messages such as press releases, media briefings and opinion pieces
Experience of managing multiple media briefs across different outlets and able to meet deadlines and make decisions on what to prioritise when working under pressure on several stories
Strong communication skills, both written (able to produce polished and compelling copy often to tight deadlines and with a good understanding of what works for CAFOD's digital channels) and verbal (able to be persuasive with pitching media ideas to producers/journalists/media outlets)
Able to support cross-organisational initiatives integrating corporate objectives into media work and support, motivate and develop staff in understanding what works best for media
Able to work on issues that are often complex and sensitive to find the best approach for CAFOD's media engagement
For more information on this vacancy as well as the application process, please visit the CAFOD jobs page.
More about CAFOD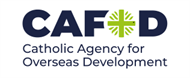 We are CAFOD!
CAFOD is the official aid agency of the Catholic Church in England and Wales, and part of Caritas International. We bel... Read more
Closed date:
13 July 2022 at 23:59
Tags:
Communications, PR, Intl Development
The client requests no contact from agencies or media sales.