Team Leader Safer Renting
London, Greater London (Hybrid)
Job description
We seek candidates to join our fast expanding team dedicated to making private renting safe for all.
Job Description
Job title: Team Leader
Reports to: Deputy Head of Service
Responsible for: Up to 4 caseworkers/interns/advocates
Contract: Permanent
Location: Cambridge House offices
Salary: £30,000 per annum
Working hours: 35 (FT) hours per week (Monday to Friday)
Holiday: 30 days per annum pro rata
Special conditions: - Enhanced DBS check
- Hybrid remote and office working arrangements
- Occasional evening and weekend work
Job Purpose
As a member of Cambridge House's Safer Renting Team, led by the Head of Service, this role is to:
i) Provide supervision, support and performance management of a small team of private tenancy rights caseworkers, ensuring equitable and manageable sharing of caseload
ii) Encourage and support user involvement and private tenants' voice generally in our service development
iii) Represent Safer Renting to and manage relationships with an agreed group of local authorities
Key Duties
1. Managing the team:
a) Plan the work of the team
b) Motivate the team to deliver the service to agreed standards, carrying out regular supervisions, appraisals and periodic team meetings
c) Monitor and record team performance metrics
d) Resolve any performance deficits
e) Use casework management tools and ensure service and casework management protocols set out in the Policy and Procedure and Quality Assurance Handbook are followed by all team members
f) Compile key performance indicators
g) Maintain quality assurance data and accreditation evidence
2. Share our learning on effective casework approaches
a) Contribute to the wider team development
b) Motivate the team to deliver the service to agreed standards
3. Influence policy and practice by:
a) Actively support research initiatives, analysing our casework data, improving understanding of the lower end of the private rented market in London
b) Represent Safer Renting at external events including policy and practice discussions
4. Keep up to date at all times with developments in or affecting tenancy rights, housing law and its enforcement
Applications via our website.
More about Cambridge House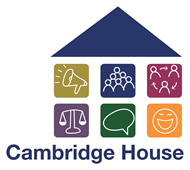 Cambridge House
A London-based centre fighting poverty, social inequity and injustice
As an independent charity, Cambridge ...
Read more
Posted on:
25 October 2023
Closed date:
24 November 2023 at 23:59
Tags:
Legal, Housing Management
The client requests no contact from agencies or media sales.