London, Greater London (On-site)
£27,550 - £30,000 per year
Job description
Key Responsibilities:
1. To assist Skill Up Tutor, Careers Leader and TAP Coordinator to assess learner's preferences, skill levels and support needs related to work experience and employment.
2. To work with TAP staff and learners to identify, agree and monitor targets.
3. To ensure job matches are appropriate to the individual's needs and aspirations, and that targets set are relevant and promote new skills and learning.
4. To assist in completing placement risk assessments and reasonable adjustment plans for learners.
5. To work alongside the Engagement Officer in the set-up and settling in of learners into each work placement.
6. To monitor allocated work placements closely, providing support and advice to workplace mentors and staff where required.
7. To provide person centred support and training as appropriate to learners in their work placements as required, developing strategies and adjustments for learners and mentors.
8. To keep detailed records of visits and all necessary reviews, reports and documentation as required.
9. To work with TAP Tutors and support learners during class days and to help create learning materials as needed.
10. To support the Independence lead with travel training learners.
11. To support learners during social events and trips.
12. To contribute towards learner's person-centred reviews and annual Education Health and Care Plan reviews as required.
13. To liaise regularly with learner's families, carers, and social workers (or other Local Authority personnel) as required.
Please see job description for further information
More about CareTrade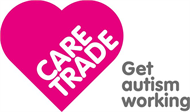 CareTrade passionately believes that autistic young people should have the opportunity to be part of their community, to have the support they ...
Read more
Closed date:
19 August 2023 at 23:59
The client requests no contact from agencies or media sales.