Part time Teaching Assistant
London, Greater London (On-site)
Part-time (Tuesday and Thursday 9am – 5.30pm (allowing for one hour unpaid for lunch))
Job description
Key Responsibilities:
1. To provide relevant and appropriate support to all learners, in order to enable them to access the curriculum as independently as possible.
2. To work collaboratively with the tutor in the classroom and take direction from them with the support needs of the learners in the class.
3. To support the tutor to ensure that all relevant education policies and procedures are implemented in full.
4. To maintain regular communication both informally and ensuring the individual needs of the student are being met effectively.
5. Liaise with other project staff from to provide a consistent approach to all aspects of learner education.
6. To promote, in line with the project's policies, the physical, educational and development of the learners.
7. To ensure that the available equipment and resources are used, stored and maintained efficiently, reporting any maintenance issues to the appropriate staff.
8. To support the tutor and job coach to update, implement and evaluate documentation relating to the individual student. This will include Individual Risk Assessments, Individual Education Plans, Support Plans and Education Health and Care Plans as required and appropriate.
9. To work collaboratively with the tutor and wider team to adequately plan to ensure the safety of students, in line with risk assessments.
10. To produce appropriate and effective resources/teaching aids at the request of, and following a brief provided by the tutor.
11. To contribute as a member of the projects multi-professional team, ensuring good working relationships with colleagues
12. Work with and manage challenging behaviour, enabling learners to develop coping strategies.
13. To keep up-to-date with specified subject area, educational practice and autism-related information.
14. Safeguard all learners and ensure their safety and wellbeing.
More about CareTrade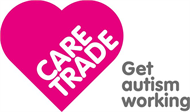 CareTrade passionately believes that autistic young people should have the opportunity to be part of their community, to have the support they ...
Read more
Posted on:
02 August 2023
Closed date:
01 September 2023 at 12:00
Tags:
Support Worker, Teaching