Greater Manchester (On-site)
Job description
The post of Entrepreneurship Project Worker is a new post.
Working closely with the Entrepreneurship Manager and the Head of Social Action, this post has been created to assist the delivery and monitoring of entrepreneurship training and support for refugee entrepreneurs. The post will enable you to assist bespoke business coaching, an entrepreneurial mentoring course, digital skills training, workshop facilitation training and other training as required as well as practical support to refugee entrepreneurs.
You will also be responsible for administrative tasks, including arranging meetings, training sessions, mentoring and coaching sessions, tracking participants' attendance and monitoring participants' performance. Additionally you will support the Entrepreneurship Manager in recruitment, onboarding, matching, continuous training and management of volunteer business mentors.
The post requires some experience of administrative work and data record keeping as well as
delivering 1-1 advice, mentoring and coaching (ideally business/start-up advice).
More about Caritas Diocese of Salford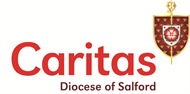 Caritas Diocese of Salford is the principal social action agency of the Catholic Diocese. Our mission is to put Love Int... Read more
Closed date:
13 July 2022 at 10:00
Tags:
Christian, Volunteer Management
The client requests no contact from agencies or media sales.