Director of Finance & Resources
London, Greater London (Hybrid)
£70,000 - £75,000 per year
Job description
Central YMCA are pleased to be exclusively partnering with Robertson Bell in search of a new Director of Finance and Resources to join their team on a permanent basis. As the world's first YMCA, we are a charity that advances the education, health and wellbeing of our communities. We break down barriers to create improved access to life-changing opportunities.
The Director of Finance and Resources is responsible for providing a central and coordinated focus for all support services functions within Central YMCA (the Charity). The position leads the Finance, Technology, Property, Facilities and Health & Safety departments.
The organisation:
In 2021/22 we helped 6,199 people to lead healthier lives through our health and wellbeing programmes. We're passionate about fostering an ethos of inclusivity and creating a welcoming space for our members across our two central London venues, YMCA Club and YMCA KX.
Our 96,876 square foot Club in the heart of Camden is an iconic anchor of the community. With a fitness and wellbeing community like no other, we have programmes for all people, all bodies, all ages and all levels. We believe in physical health for mental wellbeing, supporting those from 4 years old to 90 years old.
Our education and employment programmes run in 21 local communities and support 16-19-year-olds to develop new skills and gain the necessary qualifications and work experience to move into further training or employment.
We also work nationally through our fitness education training and apprenticeship delivery teams to provide tuition, guidance and support to our learners, so they can realise their full potential.
The role:
To provide ongoing support and challenge to the Chief Executive, wider Executive Team and Board.
To actively drive the Charity's strategy, utilising all available management information to coherently advise on the Charity's direction and decision-making process.
To proactively lead, encourage and support all team members to actively deliver the Charity's strategy and cultural vision.
Responsible for leading a team that can provide accurate and robust financial information in a timely manner that enables informed business decisions to support the ongoing commercial and charitable needs of each operation within the Charity.
Active management of budgets and forecasts to ensure commercial growth. This includes all financial reporting requirements and treasury management (overseeing the organisation's cash and liquidity performance), including supporting and driving the annual budget and financial planning processes and regular and timely forecasts to monitor progress against financial and strategic objectives and to highlight variances that require immediate intervention.
Responsible for driving the Charity's premises and facilities strategy.
Providing strategic direction for operations around commercial use of facilities and health and safety requirements.
Responsible for developing, designing and managing IT and digital infrastructure within the Charity.
The successful candidate will have:
A fully accountancy qualification.
Significant experience in leading and managing back-office functions in complex multi-department organisations.
Experience providing a proactive partnering role to operations in ensuring achievement of budgets.
Experience of operating at Executive level.
Excellent problem-solving and succinct decision-making abilities.
Proven ability to inspire, motivate and enable a high performing team to achieve success.
This position will be based officially at the head office in central London however flexible working will be on offer with only two days a week required in the office. The closing date for applications is 3rd December, with first stage interviews taking place the week commencing 11th December.
Applications will be under constant review before the closing date, so please submit your application to our exclusive search agent, Robertson Bell. Apply now to be considered!
More about Robertson Bell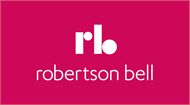 Robertson Bell is the leading specialist recruiter serving employers and candidates in the public and not-for-profit sectors. Our clients chall...
Read more
Posted on:
20 November 2023
Closed date:
03 December 2023 at 23:59
Tags:
Finance, Operations