United Kingdom, United Kingdom, United Kingdom (On-site)
£43295.00-£56113.00 per year
Job description
Contract: Permanent, Full-time
Salary: £48,000 - £56,113 (London) or £43,295 - £50,656 (North) (depending on location)
Location: London or North
Closing Date: Friday 27th May 2022
Centrepoint is the UK's leading youth homelessness charity. We help vulnerable young people by giving them the practical and emotional support they need to find a job and live independently.
Centrepoint is embarking on its biggest strategic investment programme to deliver 300 new self-contained affordable homes across Greater Manchester and London by 2023 for young people who are ready to live independently. Independent Living is defined as a young person would is ready live independently with little or no support whilst focussing on their apprenticeship or employment opportunity.
The focus of this programme is inclusive of young people who are at risk of homelessness, come from any housing background, Centrepoint young people and young people referred to Centrepoint from other Supported Services. Centrepoint regard independent living programme as the penultimate step before a young person moves on and achieves and outcome of renting into the private rented sector (PRS) or to buying their first home.
Furthermore, the independent living programme is not for young people who are homeless or who are currently living on the streets; the programme is targeting young people who are already in hostels or supported housing, who have been supported, can meet Centrepoint's criteria and/or require a place to call a home thus enabling them to progress on their independent journey and develop their own careers.
In addition to providing accommodation, built into the programme is the pathway to enable young people to get onto an apprenticeship role or full time employment. Centrepoint have partnered up with a number of apprenticeship providers and ethical employers who have allocated their CSR/Apprenticeship roles to Centrepoint and new partners who have committed to collaborating with Centrepoint to ensure that young people are supported with CV writing, interview preparation and career progression in their job or apprenticeship.
The successful candidate will deliver and lead on the operational and housing management activities for Independent Living.
This post holder will lead and manage a small team of staff who will have responsibility for delivering the following outcomes for young people:
To ensure young people thrive in their employment or apprenticeship role;
To ensure young people maintain their tenancies;
To ensure young people move on successfully.
A summary of the key deliverables of the role is outlined in the job description for the role.
We seek to challenge discrimination and are committed to fairness and equality within Centrepoint. We welcome applications from anyone with direct experience of being homeless or using young people's services.
Don't miss out on this fantastic opportunity to join our team as a Head of Indepedent Living click 'Apply' now!
More about Centrepoint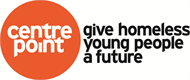 Centrepoint is the UK's leading charity for homeless young people.
Supporting over 10,900 16-25 year olds&nbsp... Read more
Refreshed on:
22 May 2022
Closed date:
27 May 2022 at 23:59
Tags:
Housing Management, Operations