London, Greater London, United Kingdom (On-site)
£33528.00-£36879.00 per year
Job description
Role: Project Manager
Salary: £33,528 - £36,879 per annum
Location: London
Contract: Full-time, 6 Months FTC
End Youth Homelessness (EYH) is a movement of the UK's leading youth homelessness charities. Youth homelessness does not have to be inevitable. EYH drives research, collaboration, awareness and funding to identify and scale interventions that end youth homelessness. End Youth Homelessness was established by Centrepoint in 2014 and has achieved great success. In 2022, End Youth Homelessness will embark on the next stage of its journey as an independent charity supporting its Member Charities in their vital work helping young people leave housing insecurity behind.

The Project Manager will be will be a pivotal member of the EYH team as we embark on our journey to becoming an independent charity. The post holder will play a key role in the development of our new employability programme, the development of a pro bono recruitment consultancy to support homeless and disadvantaged young people into employment. The post holder will work closely with the Head of Operations to develop and implement the project strategy and delivery plan, being responsible for driving the day to day activity of the project.
This is a unique and exciting opportunity for an entrepreneurial and driven individual with strong relationship and project management skills to join a committed team that is making a tangible difference in the lives of vulnerable and homeless young people across the UK.
What you will be doing…
• Lead the development of a network of referral organisations and work with them to support young people into job opportunities Develop relationships with prospective partners.
• Act as the account manager for our recruitment partner, working closely with their project lead and supporting them to promote the programme across their client base
• Design and develop project processes
• Develop and test commercial options to make the project financially sustainable

In return for your efforts you'll receive a competitive salary, excellent training and development, and a host of staff benefits including:
- 25 days of annual leave per year, rising by one day per year to a maximum of 27 days
- Excellent training package to ensure you have the skills and knowledge to build a new career
- Employer pension contributions of 4%
- Clear career progressions, linked to portfolio work, that enables movement up the pay scale
- Access to Cycle 2 Work loan scheme
- An interest-free travel loan

At Centrepoint we challenge the discrimination within society that contributes to youth homelessness, and we are just as committed to fairness and equality within Centrepoint itself. We are passionate about ensuring all of our colleagues are made to feel included in the work we do and that we value the rich diversity within the organization.

We are an equal opportunities employer and we welcome applications regardless of sex, gender, race, age, belief in any religion and none, gender identity, ethnic origin, class, sexuality, nationality, appearance, unrelated criminal activities, disability, responsibility for dependents, part time or shift workers, being HIV positive or living with AIDS, lived experience of homelessness or using young people's services and any other matter which causes a person to be treated with injustice.

Centrepoint's policy is to recruit, employ and promote people on the basis of their suitability for the work to be performed, and to this end, our aim is to ensure that all applicants, employees and volunteers receive equal treatment.

Don't miss out on this fantastic opportunity to join our team as a Project Manager click 'Apply' now!

More about Centrepoint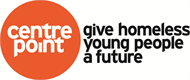 Centrepoint is the UK's leading charity for homeless young people.
Supporting over 10,900 16-25 year olds&nbsp... Read more
Refreshed on:
04 July 2022
Closed date:
11 July 2022 at 09:08