Hammersmith, Hammersmith and Fulham, London, United Kingdom (On-site)
£22977.00-£26203.00 per year
Job description
Contract: Permanent, Full-time
Location: Hammersmith & Fulham
Closing date: 10th July 2022
New opportunities not to be missed! We are looking for dynamic, passionate and motivated Supported Housing Officers to join our new services in Hammersmith & Fulham.
Centrepoint, the UK's leading youth homelessness charity, is looking for Supported Housing Officer to join our Hammersmith & Fulham team. In return, you will receive a competitive salary plus excellent benefits.
We help vulnerable young people by giving them the practical and emotional support they need to find a job and live independently.
Together with our partners, we support thousands of homeless young people each year.
This is a very interesting place to work as we support both care leavers and young people at risk in a large number of growing services across the borough. We offer a mix of high Support Services, which operate 24/7 and flexible with services operating from 9:00am – 5:00pm (with the need for some flexibility)
We are looking for Supported Housing Officer that can provide quality support to our young people.
Hammersmith & Fulham is a diversified environment with young people and colleagues from diverse ethnic backgrounds, and the service and other stakeholders celebrate and maximize the opportunities that diversity presents.
In this role you will:
Work face to face with young people and support them to achieve their goals and independence.
Work independently and as part of a team to ensure the highest possible standards of accommodation
Undertake initial and ongoing needs/risk assessments for young people
Manage your own caseload of young people, providing holistic support in line with their needs and aspirations
Liaise with multiple agencies to ensure effective communication across the service and externally including social work teams, YOS, health and other statutory services and voluntary agencies
Make internal and external referrals to a wide range of statutory and voluntary agencies for specialist support and Employment and Training opportunities
Support young people to manage their rent accounts through liaison with the DWP, Social Services and building their own personal budgeting skills
This role is perfect for you if you:
Are passionate about working with young people
Have experience working within supported housing settings
Are able to support YP with a range of high to low support needs
Can work independently, as part of a team and alongside a range of external partners.
Have strong communication skills.
Are looking to bring your energy, skills and enthusiasm to a new team of colleagues
Have an interest in working with USAC (Unaccompanied asylum seeking children)
At Centrepoint we challenge the discrimination within society that contributes to youth homelessness, and we are just as committed to fairness and equality within Centrepoint itself. We are passionate about ensuring all of our colleagues are made to feel included in the work we do and that we value the rich diversity within the organization.
We are an equal opportunities employer and we welcome applications regardless of sex, gender, race, age, belief in any religion and none, gender identity, ethnic origin, class, sexuality, nationality, appearance, unrelated criminal activities, disability, responsibility for dependents, part time or shift workers, being HIV positive or living with AIDS, lived experience of homelessness or using young people's services and any other matter which causes a person to be treated with injustice.
Centrepoint's policy is to recruit, employ and promote people on the basis of their suitability for the work to be performed, and to this end, our aim is to ensure that all applicants, employees and volunteers receive equal treatment.
Don't miss out on this fantastic opportunity to join our team as a Supported Housing Officer click 'Apply' now!
More about Centrepoint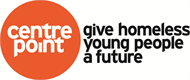 Centrepoint is the UK's leading charity for homeless young people.
Supporting over 10,900 16-25 year olds&nbsp... Read more
Refreshed on:
02 July 2022
Closed date:
10 July 2022 at 23:59
Tags:
Support Worker, Housing Management