London, Greater London, United Kingdom (On-site)
£43138.00-£45296.00 per year
Job description
Role: Trust & Statutory Fundraising Manager
Closing date: Monday 18th July 2022
Contract: Full-Time, Permanent

Interviews are expected to take place on week commencing 1st August 2022.

We are looking for two Trust and Statutory Fundraising Managers to join Centrepoint. This is a fantastic opportunity to join an ambitious and motivated fundraising team dedicated to ending youth homelessness. The Trust and Statutory fundraising function, the UK's leading youth homelessness charity, are looking for two fundraising managers to join the team and increase our income from trusts, foundations and government.

Working as part of a team of five fundraisers, each manager will be responsible for supporting a Fundraising Officer and for raising funds from an established trusts and foundations portfolio whilst working to expand a smaller portfolio of government funders. The Trust & Statutory Fundraising Manager roles will be pivotal in raising income for a variety of impactful services that transform the lives of homeless young people including; homelessness prevention, independent living skills, health services, education and training, employability, and capital and research projects. There will be opportunities to shape the new trust and statutory fundraising strategy and to help formulate new ways of working including collaborating across the entire fundraising function.

The role will involve:
• Winning and cultivating high value multi-year relationships from both trust and statutory sources.
• Managing a portfolio of existing supporters, providing an engaging supporter experience to sustain and uplift partnerships.
• Developing a robust pipeline of new trust and statutory prospects through research and networking.
• Collaborating effectively across the wider fundraising team and with operational teams to deliver compelling proposals and excellent relationship management.
• Managing a Trust and Statutory Fundraising Officer, supporting and developing them to contribute to the team fundraising target and plans.

The new manager roles are part of an ambitious new fundraising strategy and restructure that has created a wider Relationships Fundraising Team including corporate and philanthropy fundraising functions.

In return for you will receive a competitive salary, excellent training and development opportunities, and a host of staff benefits including:
- 25 days of annual leave per year, rising by one day per year to a maximum of 27 days
- Employer pension contributions of 4%
- An interest-free travel loan
- Access to Cycle 2 Work loan scheme

At Centrepoint we challenge the discrimination within society that contributes to youth homelessness, and we are just as committed to fairness and equality within Centrepoint itself. We are passionate about ensuring all of our colleagues are made to feel included in the work we do and that we value the rich diversity within the organization.

We are an equal opportunities employer and we welcome applications regardless of sex, gender, race, age, belief in any religion and none, gender identity, ethnic origin, class, sexuality, nationality, appearance, unrelated criminal activities, disability, responsibility for dependents, part time or shift workers, being HIV positive or living with AIDS, lived experience of homelessness or using young people's services and any other matter which causes a person to be treated with injustice.

Centrepoint's policy is to recruit, employ and promote people on the basis of their suitability for the work to be performed, and to this end, our aim is to ensure that all applicants, employees and volunteers receive equal treatment.
If you want to play a major role in raising the resources that will help young people to escape homelessness and turn their lives around apply today!
More about Centrepoint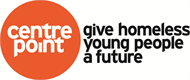 Centrepoint is the UK's leading charity for homeless young people.
Supporting over 10,900 16-25 year olds&nbsp... Read more
Refreshed on:
09 July 2022
Closed date:
18 July 2022 at 09:04