Guildford, Surrey (Hybrid)
£30,000 - £35,000 per year
Permanent, Contract, Part-time, 37.5 flexible hours, Full-time
Job description
Enable Concordis work for peace by ensuring our (virtual) head-office operates smoothly. You don't need experience of peacebuilding or charity work, just sublime organisational skills and a passion for peace.
Flexible hours, working from home within easy reach of Guildford, Surrey, UK, to meet the CEO & directors 1-2 times per week.
Application: Only by application form attached and downloadable from http://concordis.international/careers and emailed to: hr @ concordis.international
Deadline: Sunday 17th July at 23.59 hrs
Reports to: CEO
Concordis is a UK registered peacebuilding charity with programmes in Sudan, South Sudan, Central African Republic and Mauritania. We work alongside those involved in or affected by armed conflict, helping them find workable solutions that address the root causes of conflict and contribute to lasting peace and economic development. We're committed to finding solutions that benefit women as well as men, those in armed groups as well as those who chose not to take up arms, national governments as well as civil society.
This work makes a difference. A recent independent evaluation of our work in CAR found:
The project was highly impactful and added significant value to social cohesion, resilience, local economic development and governance. There was widespread evidence of changes in attitudes and behaviour between farmers and herders in project areas.
Delivered in an extremely complex context, the project demonstrated excellent flexibility and adaptive capacity and consequently remained highly relevant throughout the project period… It is an excellent and innovative pilot, which should be replicated and scaled up nationally.
Essential Criteria
These are absolute requirements; please only apply if you have these skills and experience:
At least 5 years in a senior administrative / management role (e.g. PA, EA, office manager, project manager)
Communications experience: writing or editing newsletters or reports; updating websites; managing social media feeds
Human resources experience, including helping recruit staff
Able to provide basic IT support to the wider team
Highly organised and professional
Commitment to Concordis' mission, principles, values (available at http://concordis.international/our-mission-and-values/)
Desirable Criteria
We don't expect applicants to be able to do all these things, but if you've experience in some of them, we'd love to hear about it.
Fundraising
Events management
French-speaking
Video editing
Safeguarding
Data management
Risk management
Security management
KEY RESPONSIBILTIES AND OUTCOMES
Supporting good governance

Organise meetings of the board of trustees, their sub-committees and the advisory panel, arranging dates and venues, collating agenda and papers, taking minutes, following up action points.
Ensure Concordis' policies (e.g. Security, Safeguarding, Anti-Corruption etc.) are available to all staff and kept up-to-date, either reviewing them yourself or following up with the person responsible.
Steward the Risk Register, ensuring risks are reviewed regularly by the responsible person.

Helping communicate Concordis' message

Convert (rather dry) text from project reports into professional and attractive communications materials for printing, website and social media, for dissemination to current and prospective donors.
Technical support with online and in-person conferences and events, creating PowerPoints and ensuring the tech platform is functioning well.

Professional support to the CEO and directors

Convene meetings of the directors, senior management team and wider staff team, following up on action points as needed.
Diary management for the CEO, setting up regular meetings with staff and people from outside the organisation, arranging visas, booking flights and accommodation etc.

Supporting the wider team (hence French language desirable but not essential)

Oversee the security rota, ensuring someone is tracking staff working in hazardous areas at all times.
Be the first line of IT support for the whole team, fixing minor issues as they arise and referring more difficult questions to IT consultants; help the team implement the cyber security policy.
UK procurement, including IT equipment, branded clothing, business cards etc, keeping a central record of Concordis' assets.
Help the team improve file and data management, streamlining a workable system across the organisation.
Steward the Office email account, referring messages to the relevant person.
Keep a central record of programme deadlines and help ensure that they are met in good time.
Receive and check staff expense claims, forwarding them for payment to the Finance Director

Human Resources

Steward the recruitment processes across the organisation, working with the line managers responsible to prepare job descriptions, advertise roles, sift and shortlist, interview, take up references and checks, offer jobs and issue contracts. Ensure HR files are kept up-to-date.
Oversee onboarding of new staff, ensuring they have the information and equipment they need, are briefed on policies and feel part of the team.
Diarise appraisals and ensure training needs are met.
Work with programme managers to ensure safeguarding policies are known and being implemented.
Administer the internship programme, ensuring quality recruitment and that interns are allocated to roles in which they can be useful and receive training.

Management of service providers

Diarise renewals of insurance, licences, rental contracts and leases held by Concordis in all the countries where we work, ensuring that they are renewed, re-negotiated or notice is served in a timely manner (this might be done by you or referred to a programme manager).
Manage online contracts with Garmin, Fulcrum, Canvas etc. and with donors such as the EU, US, UK.
Be the first point of contact for our travel agent, insurance broker, IT support, landlord etc. ensuring we get a good service from them.
Application Instructions
Applications are only accepted on the application form attached and downloadable from http://concordis.international/careers and emailed to: hr @ concordis.international
More about Concordis International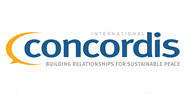 Concordis International is a UK registered peacebuilding charity with programmes in Central African Republic, Mauritania, Sudan and South Sudan... Read more
Refreshed on:
06 July 2022
Closed date:
17 July 2022 at 23:30
Tags:
Management, Operations