Job description
As the leading bereavement support organisation in the UK, Cruse has over 4000 volunteers who provide bereavement support to over 35,000 people a year. We want to continue to be known for our excellent volunteer experience externally and be an amazing organisation for people to want to give their time and skills.
We want to help more people and diversify who we support. The Volunteer Experience Lead is a new and exciting national role to help us grow, develop and improve the experience of, and engagement with, all of our amazing volunteers to ensure they are motivated, skilled and supported to do their role.
This role is strategic and operational. It will act as a National Advisor, inform, and advise on the plans and policies that involve volunteers; it will lead on better engagement as well as introduce more consistent practice and processes covering all aspects of the volunteer experience.
The successful candidate will be relationship focused, confident and resilient with a passion for making organisational improvements and leading positive change.
Application Instructions
Your application must consist of a CV and covering letter, which outlines your suitability for the role with reference to the Job Description and Person Specification and should be no longer than two pages.
The closing date for applications is 17th July, with interviews taking place on Thursday 21st July, via zoom.
Please be advised that if you do not hear from us by 22nd July, unfortunately on this occasion you have not been shortlisted.
Cruse welcomes and encourages applications from everyone regardless of age, disability, gender, ethnicity, religion and sexual orientation.

More about Cruse Bereavement Support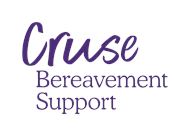 Cruse Bereavement Support offers support, advice and information to children, young people and adults when someone dies and work to enhanc... Read more
Closed date:
17 July 2022 at 23:30
Tags:
Volunteer Management
The client requests no contact from agencies or media sales.