Permanent, Part-time, 4 days a week, will consider full time for the right candidate
Job description
Reporting to the Head of Business Development, we are looking for someone with a demonstratable track record of soliciting, managing and securing four, five & six-figure trusts and grants funding. We are looking for someone skilled in developing, maintaining and managing relationships with a range of stakeholders including funders, colleagues, beneficiaries, schools and partners.
You will strengthen and take ownership of our restricted income pipeline and action plan to raise funds, and work with peers and leadership at the organisation to manage the portfolio. You will have previous trust fundraising experience, preferably within the youth, sport for development or health & wellbeing sector, a track record of excellent relationship building with external sources, and will have superb writing skills. Crucially, you will be an excellent team player with a passion for the young people we are here for.
Key Areas of work
Develop and manage a robust prospect pipeline to support the Head of Business Development to realise our funding ambitions in this FY of circa £1.2mil.
Creation of a calendar of opportunities for grant submissions, engagement, cultivation and stewardship of funders.
Responsible for raising both unrestricted and restricted income from charitable trusts, foundations and statutory bodies to deliver the programmatic ambitions of the charity.
Create compelling propositions and proposals for trusts & foundation funders and ensure quality and timely reports back on funding gifts made.
Ensure consistent and professional presentation of the charity to all funding sources.
Work closely with the CEO, Head of Programmes and Head of Communications to maximise awareness and funding of our work to allow for continued meaningful engagement with existing and new funders.
Proactive use of Raisers Edge (CRM) to manage current funder relationships and new prospects through active recording of information.
Ensure all team members adhere to best practices in fundraising, including the use of data, confidentiality and acknowledgement.
Work closely with the Finance, Governance and Compliance Senior Manager to ensure that income is accurately forecasted and updated accordingly, with direct responsibility for all restricted funding.
Manage Fundraising and Insights Assistant to ensure fulfilment of strategic objectives and values, excellent funder communications and timely impact reporting.
Other key roles:
Role model the Trust's values and behaviours and coach individuals to do the same.
To ensure that a positive image of Dame Kelly Holmes Trust is projected at all times.
To contribute to other activities undertaken by Dame Kelly Holmes Trust.
To contribute to organisational effectiveness through positive team working.
To adhere to Dame Kelly Holmes Trust Health and Safety & Safeguarding Procedures.
More about Dame Kelly Holmes Trust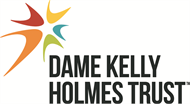 Powering Potential, Shaping Futures
We believe all young people must have an equal opportunity to be the best versio... Read more
Closed date:
04 July 2022 at 17:00
The client requests no contact from agencies or media sales.