Part-time, Temporary, One year (maternity leave cover)
Job description
Devon Community Foundation neither wants to, nor does, work in a vacuum. Successful partnerships and collaborations are vital at every stage of the work we do. To make lasting change in our communities, it is important that we have a link with those in positions of influence. We have a unique view of the communities that make up our county, and if we are able to portray the importance of change within it to the people who can take that message right to the top, then that is of benefit to everybody.
We are now looking to recruit a Wellbeing Exeter Programme Development Manager (maternity cover) This role is responsible for the programme management and development of Wellbeing Exeter, a partnership of public, voluntary and community sector organisations working together to provide the firm foundations for individuals and communities to promote and improve their own health and wellbeing. The programme has developed into a city-wide social model of prevention which recognises that communities, and the relationships that make them, are vital to creating and sustaining health and wellbeing. Our flexible working arrangements will involve a mix of working from home and in the office and occasionally there may be out of hours events to attend.
Application Instructions
Deadline for applications: 5pm on 25th May 2022

Proposed date for interviews: 6th – 7th June 2022

Start date: mid-July 2022 at the latest, with approx. 1 month handover period


More about Devon Community Foundation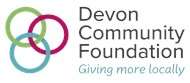 Devon Community Foundation is an independent charitable foundation specialising in awarding grants across Devon, Plymouth, and Torbay to volunt... Read more
Refreshed on:
22 May 2022
Closed date:
25 May 2022 at 23:59
Tags:
Management, Business Development
The client requests no contact from agencies or media sales.