Glasgow, Glasgow City (Hybrid)
Contract, Temporary, 24 months, Full-time
Job description
Disability Equality Scotland is a membership organisation for disabled people and disability groups and organisations, as well as the umbrella body for the Access Panel Network in Scotland. Their mission is to make Scotland fully accessible. This means access to our built and natural environment and access to equal opportunities, promoting a life of dignity, respect, choice, and independence. This extends beyond physical access to include access to information, access to inclusive communication and inclusion in decision-making, whether with planners over inclusive design or transport providers about accessible and safe travel.
Disability Equality Scotland is now looking for a new Deputy CEO to assist in the strategic leadership of the organisation. Reporting directly to the CEO, the post holder will oversee the development and delivery of new and existing projects with key funders. The post holder will represent the organisation on key strategic boards and strengthen and develop our partnerships throughout the third sector.
Working alongside the CEO, the Deputy CEO will be responsible for the day-to-day running of the organisation from an operational perspective as well as managing a broad number of projects and initiatives within Disability Equality Scotland. In addition, you will manage a team of six people.
The ideal candidate will have been in a management position for a number of years, have a strong understanding of the third sector, experience of networking between organisations and sectors, and knowledge of the role of Access Panels. If you think you can meet the essential skills, please contact us for more information.
You are advised to get in touch well in advance of the closing date to give us time to consider your application and pre-interview the strongest applicants.
Closing Date: Midday, Wednesday 6th July
Interviews: 18th/19th July
This search is being conducted exclusively for Disability Equality Scotland by BTA (Bruce Tait Associates). Our leadership team have all worked in the voluntary sector and we use this experience to match organisations and individuals to create great appointments.
More about BTA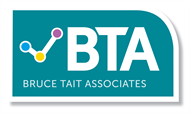 BTA is a one-stop shop that cares deeply about the charity sector in Scotland and throughout the UK. Our mission is to help charities with expe... Read more
Closed date:
06 July 2022 at 12:00