Permanent, Part-time, 22.5 hours a week
Job description
Emmanuel House is inviting applications for a Marketing and Fundraising Assistant to join a highly committed and energetic team.
The Marketing & Fundraising Assistant will carry out a key role in the development and implementation of Emmanuel House's marketing and fundraising activities, in order to secure funding and raise money for organisational core costs.
We support some of the most vulnerable citizens in Nottingham without prejudice or judgement. We strive to provide diverse and accessible services that meet basic needs and empower individuals to make positive changes in their lives.
More about Emmanuel House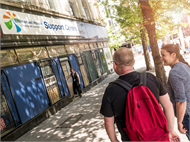 We provide diverse and accessible services that meet people's basic needs. As well as delivering direct support, Emmanuel House helps peo... Read more
Closed date:
26 June 2022 at 23:30
Tags:
Communications, PR, Marketing