London, Greater London (Hybrid)
Job description
Join us and help generate income from smaller trusts and foundations. We have an established pipeline, ready for you to take over and, with your help, will be able to grow this income stream in different ways.
This is a full time role, for a small charity that's investing in the future. We work in a hybrid way - 2 days a week in London. FT for us is 35 hours a week - if you were looking for a 3-4 day week, I am open to discussion, please apply and let me know that's what you're looking for!
For families facing tough times, a holiday is a much-needed break from the day to day, as well as giving space and time to breathe, and think differently. Families report feeling happier, creating memories and feeling more confident to face the future. With an estimated 2.2m families in the UK unable to access a break, the need is strong. More funding will help us reach more people – obviously – and this is where you come in.
This role is important in helping us share the short- and long-term impact of our work with a network of established funder relationships. We currently secure around £150k per year from these relationships through a series of small gifts. We're keen to build on this by ensuring we continue to communicate, engage and apply for funds from these existing relationships, while also looking to develop relationships, and build a pipeline and timeline for new applications.
You'll help us prepare for more ambitious multi-year funding bids, but with the support of a contracted freelancer for some projects.
You will have experience in successfully applying for income from trusts and grants sources, and in building long term relationships with funders.
This is a full-time role. We work on a hybrid basis – for Family Holiday Charity this means around 2 days of collaborative working in our London office (near Borough – more later in the pack) mixed with home working.
You'll have a lot of autonomy and ownership to shape and create this role in line with our strategic ambitions – and in line with yours.
If you're looking for a fresh challenge, where you can build on an established base rather than having to start from scratch, this could be the role for you!
#NonGradsWelcome #ShowtheSalary
Safeguarding:
As part of our commitment to safeguarding the families we're here to help, we follow safer recruitment practices. This means we will ask you to share details of any convictions you may have had, and we may ask you to complete other pre-employment checks. You may be required to complete a DBS check (at the charity's expense). We also run basic searches on social media and through search engines as part of our checking process.
Please note that we'll be shortlisting as applications come in. If you need a bit more time to apply please just drop me a note and let me know when you think you'll be able to get your application in. Likewise, if you want a chat about the role, just send an email and I'll give you a ring.
Application Instructions
Please provide a CV which outlines your skills and experience for the role. We don't need a full
cover letter, just to hear why this role really interests you (or why it's right for you, right now).

If there are gaps in your CV, don't worry. Please just explain any gaps in broad terms – sometimes the things which appear as gaps on our CVs are the things which give us skills and strengths which are most valuable to us in life.



More about Family Holiday Charity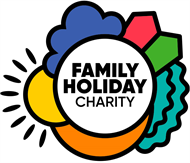 We help families get time away together, often for the first time ever.
We're here for children living near the coast, who've... Read more
Closed date:
06 July 2022 at 23:59
The client requests no contact from agencies or media sales.