CM1, Chelmsford (On-site)
£45,542 - £53,581 per year
Job description
Contract Type: Permanent
Closing Date: 3rd July 2022
Interview Date: Week commencing 11th July 2022
Salary: £45,542 - £53,581 (FTE)
Hours: 37.5
Are you looking for a position that offers:
The opportunity to be part of an award winning organisation
The opportunity to be part of a high performing team
A generous benefit package including hybrid working, pension and opportunities for personal growth
We have the role for you...
Farleigh Hospice is a high performing organisation providing specialist palliative and end of life care for people with life limiting illness in the Mid Essex region. Our team at Farleigh has grown and evolved to meet the changings needs of the community we serve and we are looking for highly motivated Locality Care Team Manager to join our senior clinical team.
We have undergone significant clinical reorganisation to move to a locality-based multidisciplinary model of community care with a central 'Core Team'. The Locality Care Team Manager (LCTM) for the Central Team will lead and manage the multidisciplinary team overseeing the operational delivery of personal to specialist EoL care within the Central setting (Chelmsford and surrounding areas) of the Mid Essex region. You will be supported by a passionate and dynamic team including HCAs, therapists, navigators, psychosocial and nursing staff. You will have designated administrative support.
You will be a compassionate leader with excellent communication skills. You will be a clinician with experience in palliative care and managing multidisciplinary teams. You will have the ability to problem solve, remain calm under pressure, and manage competing workloads. You will work closely with your fellow Locality Managers and the ensure cross cover and continuity. You will take part in the Clinical Manager on-call rota. You will build strong relationships with external partners and stakeholders ensuring Farleigh Hospice is as an integral part of the emerging Integrated Care System.
You will report to the Director of Care and have the opportunity to develop your leadership skills and act at a strategic level.  You will continue to practice clinically in your designated field.
We offer a great working environment, a competitive pay and benefit package, flexible working and a strong team to support you.
If you require further information please view the job description via the Farleigh hospice website.
(Please note – If we receive a high number of applications we will close the vacancy before the closing date)
Farleigh Hospice is committed to creating an inclusive working environment where diversity is recognised and celebrated. To achieve this we welcome applications from all sections of the community. Farleigh Hospice operates a three-month probation period. Positions may be subject to DBS Disclosure. Charity Registration No: 284670
More about Farleigh Hospice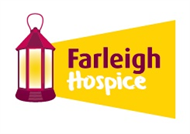 A career at Farleigh Hospice could be the most rewarding career move you'll ever make. There is a large variety of roles from direct pati... Read more
Closed date:
03 July 2022 at 23:30
Tags:
Care Management, Nursing
The client requests no contact from agencies or media sales.