Campaign and Research Admin
London, Greater London (Hybrid)
Job description
Reporting the Senior Projects Officer and Head of Campaigns and Development, our Time to Shine Leadership role will primarily support the delivery of:
A more comprehensive approach to campaigning and communicating our impact as an organisation
A detailed set of opportunities to apply for funding and work with high-net-worth individuals.
Supporting with research and briefings for the Investor and Business team, as part of the sustainable diets strategy.
Working with colleagues in our team and across partner organisations, there will also be opportunities to get involved in helping to put together our event and sector leading reports & publications relating to other exciting partnership projects such as our Children's Right2Food Campaign, our work to tackle Dietary Inequalities and our work on food policy to tackle junk food consumption.
Main responsibilities: 
1. Campaigns
Conducting desk research to support the Head of Campaigns and Development in creating a database of influencers/celebrities with potential alignment with The Food Foundation goals.

Facilitate the development of content with adult and youth citizen food ambassadors to help them grown their social media channels and develop their ideas alongside our citizen Engagement Manager. Attend our campaign events, support the Citizen Engagement team in the run up to events.
2. Fundraising
Researching potential corporate funders that align with our work and objectives and research high network individuals and other potential supporters.

Develop creating ideas to engage corporate donors working closely with the Head of Campaigns and Development to do so.
3. Senior Management Support
Setting up staff training sessions and well-being events

Support with diary management and setting up external meetings for SMT when needed
4) Food Foundation Reports
Work with the team with implementing and using a consistent referencing system for our library of influential Food Foundation reports and briefings

Supporting with research and the creation of other documents that will form part of our new sustainable diets strategy. Lead on certain aspects of the research and design of the documentation.
5) General
Engage in weekly team meetings, impact delivery meetings, organisational staff training & regular supervision;

Support the team in booking & managing team travel and accommodation, organising internal and external meetings including room bookings, material preparations and refreshments;

Efficient & secure use of information systems such as Microsoft SharePoint, Zoho & Outlook.
Person Specification
Highly organised with good problem-solving skills;

Strong team player and good at using own initiative;

Good verbal and written communication skills with a close attention to detail;

Basic computer skills including Outlook, Word, Excel and PowerPoint;

Background and/or interest in research in campaigns, fundraising or communications.
More about Food Foundation CIO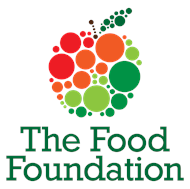 Our mission is changing food policy and business practice to ensure everyone, across the UK nations, can afford and access a healthy and sustai...
Read more
Posted on:
17 November 2023
Closed date:
28 November 2023 at 09:00
Tags:
Campaigning, Policy/Research
The client requests no contact from agencies or media sales.