Officer, FOC Support Unit
£30,000 - £35,000 per year
Contract (12 month fixed term contract )
This organisation is scheduling interviews as the applications come in. Don't miss your opportunity, apply now!
Job description
About the role
Global Partners Digital (GPD) houses the Support Unit (SU) for the Freedom Online Coalition (FOC), an intergovernmental coalition of 38 member states who collectively advocate for the promotion of human rights online.
We are currently seeking a highly motivated Officer to join the FOC SU team and contribute to the work of the FOC.
This role sits at the centre of a small and dedicated FOC SU team. You will be essential to supporting the team and the daily functioning of the FOC. With some previous administrative experience, you will support the efficient, timely and impactful delivery of FOC activities. This will include setting up and maintaining systems and processes, general administrative support, coordinating travel and logistics for FOC events, responsibility for meeting agendas and minutes, and supporting FOC communications. As part of the role, you will frequently be required to participate in meetings and events with government representatives.
With many moving parts, you will be a fast learner, able to juggle multiple work streams and changing priorities, be observant, take initiative and work with discretion. Some prior experience of working with government stakeholders is essential.
About Global Partners Digital
GPD is a social purpose company working at the intersection of human rights and digital technologies. We work to ensure that human rights underpin how we develop, use and govern digital technologies. Through advocacy, partnerships, capacity building, networks, and research, we shape rights-respecting laws and policies and help build a more diverse digital policy ecosystem.
Working days: Full time* (32 hours per week, Monday to Thursday)
Start date: ASAP
Salary: £30,000-£35,000 pa based on experience
Contract: 12 month fixed term contract (possibility for extension)
UK based (with permission to live and work in the UK)
Flexible hours
Remote working or co-working
*GPD is an accredited four-day week organisation. This means that we work reduced hours (32) Monday to Thursday with no loss of pay.
Please note: Applications will be reviewed on a rolling basis, with interviews also held ongoing, therefore we encourage you to apply as soon as possible.
More about Global Partners Digital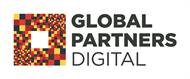 Global Partners Digital (GPD) is a social purpose company dedicated to fostering a digital environment underpinned by human rights. We do this ...
Read more
Posted on:
20 November 2023
Closing date:
20 December 2023 at 23:59
The client requests no contact from agencies or media sales.