Safe Space Support Worker
Fulham, Greater London (On-site)
Hammersmith, Greater London
£26,000 per year (pro rata)
Full-time or part-time (21 - 35 hours per week)
Contract (Fixed Term until March 2025)
Job description
Job Purpose
This role is within our crisis alternative service Safe Space - an out of hours service providing a safe and welcoming space for people who are feeling distressed and experiencing crisis. The service operates 365 days a year from 12:00pm (midday) - 11:30pm across all of our boroughs. The role will consist of two shift patterns to ensure the service is covered: 11:30am-6:30pm and 4:30-11:30pm. This will be on a rota basis across support workers.
Staff within the service will provide person-centred, practical and emotional support, face to face or via telephone on a one-to-one or group basis to individuals experiencing mental health crisis. This will consist of 1:1 support; de-escalating and providing interventions, signposting for specialised or longer-term support, and delivering collaborative self-management plans with clients to improve mental wellbeing. The aim of this service is to de-escalate and prevent further crises.
The objectives of the service include:
To improve the mental wellbeing of people experiencing mental health crisis in HFEH.
To provide support to clients accessing the service- for instance: signposting, de-escalation, planned wellbeing activities etc.
To contribute to an improvement in individual mental wellbeing.
To remain a source of independent support for all clients.
To treat service users with respect, dignity and personalised support
To raise awareness of mental health services available with the goal to improve long term mental health and reduce social isolation
To increase self-management skills of those accessing the service
To reduce the use of police, ambulance and statutory mental health services whilst experiencing crisis.
To reduce the use of statutory crisis services by people experiencing mental ill health without positive outcomes for the individual.
The Role
The role of the support workers will be to support the rest of the team in delivering interventions on a one-to-one and group basis. The role will also involve triaging and assessing all clients accessing the service, signposting and delivering collaborative self-management plans with clients to improve mental wellbeing.
About Hammersmith, Fulham, Ealing and Hounslow Mind
This is an exciting opportunity to join and support a fast growing and dedicated team supporting the wellbeing of communities across West London.
We're here to make sure that everyone suffering with a mental health problem gets the help they need to recover. We listen, support recovery, fight stigma and work with partners to take action. We provide services for adults, children and young people, signposting for everyone and training and consultancy for employers.
We are an equal opportunities employer; and are proud to employ a workforce that reflects the diverse communities we serve. We welcome applications from all suitably qualified persons from all backgrounds.
HFEH Mind are committed to creating and fostering a culture that promotes safeguarding and the welfare of all children and adults at risk. Our safer recruitment practices support this by ensuring that there is a consistent and thorough process of obtaining, collating, analysing and evaluating information from and about candidates to ensure that all persons appointed are suitable to work with children and vulnerable adults.
Post is subject to an enhanced DBS check.
More about Hammersmith, Fulham, Ealing and Hounslow Mind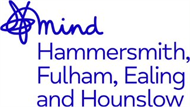 Hammersmith, Fulham, Ealing and Hounslow Mind are a specialist mental health provider and part of the Mind Federation. We provide support to em...
Read more
Posted on:
27 October 2023
Closed date:
26 November 2023 at 23:59
Tags:
Advice, Information, Support Worker
The client requests no contact from agencies or media sales.