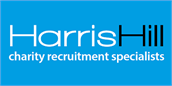 Closing in 2 days
Harris Hill Charity Recruitment Specialists
£23,440 - 26,044 per year
Job description
Harris Hill are delighted to be working with a leading national health charity in their search for the Fundraising Product Manager in order to deliver successful fundraising products that will ensure the best supporter experience while increasing participation and income.

* You will work across a range of fundraising products, including challenge events, virtual/remote events, collections and year-round supporter-led fundraisers.
* You will be responsible for delivering the strategies and plans for products including income and recruitment targets.
* You will be responsible for the product from planning stages to delivery and evaluation.
* You will maximise the fundraising potential of their products by planning and delivering activity to increase the numbers of participants engaged and the income they raise.
* You will act as the single point of contact across the charity for all matters relating to their products, providing thorough briefing documents, advice, guidance and support to other teams.
* You will monitor income and expenditure including ongoing re-forecasting.

To apply for this role you will ideally need:

* Ability to use initiative and work independently
* Strong organisational, multi-tasking and administrative skills
* Robust, confident 'can do' attitude that thrives on challenges and calm under pressure
* Ability to build strong relationships
* Good communication and Presentation
* IT skills, including Word, Excel, PowerPoint, email and database
* Experience of working within fundraising, including:organising and marketing campaigns / events
* Ability to organise effective schedules, co-ordinating multiple external and internal resources
* Team working - within own team and across an organisation. Collaboration across teams to use multi-disciplinary talents to best effect
* Co-ordinating multiple projects and delivering to deadlines



Location:Remote with offices in London / Cardiff / Edinburgh / Bradford / York
Contract Type: Fixed-Term until 6th October 2023
Deadline: 15th August
Salary: £23,440 - £26,044 pa + £3500 London Allowance, if applicable

Harris Hill Charity Recruitment Specialists operates an equal opportunity policy and commits to treating all of our candidates and jobseekers fairly. We welcome and encourage applications from everyone regardless of age, disability, sex, gender, sexual orientation, pregnancy and maternity, race, religion or belief and marriage and civil partnerships.
Posted on:
03 August 2022
Closing date:
15 August 2022 at 07:59