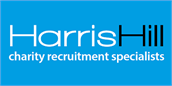 Closing in 2 days
Harris Hill Charity Recruitment Specialists
Job description
I am thrilled to support an International Charity, that helps support young people grow their businesses - enabling them to create jobs, build communities and transform lives. Since they began in 2014, the organisation has supported over 350,000 young people. They're looking for a Head of Communications to support them over a 7 month FTC, maternity cover contract, starting in November.

You will be an organised, all-rounder with a strategic mind and a willingness to roll up your sleeves and get involved in delivery. This senior role leads a small communications team to drive the charity's ambitious communications strategy forward and closely monitor results, adapting plans as needed to hit key milestone deliverables over this crucial time for our partnerships.

As Head of Communications you will join at a pivotal time in their external communications journey. You need to be confident to continue the momentum set by these key moments and follow up with a strategic media relations campaign to continue to increase awareness with key audiences.

In line with a refreshed organizational strategy the Head of Communications will be responsible for evaluating and assessing YBI's digital channels and website to make recommendations to harness comms to reach ambition targets regarding member acquisition and partner-funding
The charity is working with some great partners - Accenture, Standard Charted, IKEA. The role is an important hire, reporting directly to the CEO, you will be part of the strategic discussions in the final stages of shaping their next three year strategy and execution in the coming year.

HYBRID- The team typically come to London office's 1 a week.
Office's- Near Farringdon.
Salary £50,000 - £55,000 dependent on experience (pro-rata'd).
The role could be offered at 4 days a week, salary would be pro-rata'd!

Closing date- ROLLING! As some candidates may have longer notice periods YBI are keen to review applications, and interview on a rolling basis. If keen, please do let me know!
Application- CV and supporting statement. Please send to me!

You'll be able to start 1st November.
Posted on:
04 August 2022
Closing date:
15 August 2022 at 23:59
Tags:
Communications, PR, Digital