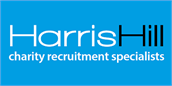 Closing in 4 days
Harris Hill Charity Recruitment Specialists
Job description
I am thrilled to be working with a Health focused Charity, who support people living with or affected by cancer, through research and care and support. In their commitment and investment in developing and growing their brand awareness the Charity is looking to hire a new role of Marketing Manager. This role provides an exciting opportunity to apply your skills to their Health Information and Services programme. This is a permanent role, based in London, minimum 2 days a week.
If you are an experienced Marketing Manager, who has managed multi-channel campaigns, has experience in managing external creative and media agencies and working with internal stakeholders, including maintaining senior relationships, then I would love to hear from you!
You will get to work on some fantastic campaigns and join at an exciting time of development, with a charity who are committed to brand and marketing. They have just launched a new brand platform and delivered a multi-channel marketing campaign. You will be a confident leader, and line manage 1 person.
Their culture is wonderful, they are collaborative, super creative and look after their staff and well-being. They also have a fantastic benefits package, including the option to buy extra holiday, in addition to 25 days holiday (increasing annually up to 30 days) plus bank holidays and office closure between Christmas Eve and the new year.
£37,500 to £41,000 per annum
Permanent
HYBRID- Minimum 2 days in the office, 3 days from home.
Office is near Aldgate East, London
Firm closing date 9am Wednesday 17 August 2022, but please get in touch now to avoid disappointment.
Email me for more info and a full job spec!
[email protected]
Posted on:
05 August 2022
Closing date:
17 August 2022 at 09:00
Tags:
Marketing, Management