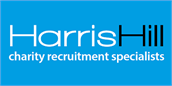 Closing in 6 days
Harris Hill Charity Recruitment Specialists
Reading, Berkshire (On-site)
Job description
Harris Hill are delighted to be working with disability support organisation to recruit a Policy and Campaigns Manager. This influential position will lead the development of policy and campaigns to support the organisations strategic aims.

Key responsibilities will include:
- Policy and campaign development. This will involve preparing consultation papers and leading on the development of regional policy
- Being a local representative for the charity on relevant committees
- Developing and leading on local campaigns relevant to the local community
- Developing and maintaining relationships with key stakeholders, including local government bodies and elected representatives
- Working in alignment with the central team to ensure coordinated national messaging

This role would ideally suit an experienced policy professional with experience of influencing a network of opinion leaders, including politicians, civil servants and professional groups. Someone who can demonstrate working with groups of campaigners and the ability to effect change through campaigning would be of interest.

For more information about this position and next steps pleases apply here now or contact Hayley at Harris Hill on 02078207306.

Harris Hill Charities Recruitment Specialists operates an equal opportunity policy and commits to treating all of our candidates and jobseekers fairly. We welcome and encourage applications from everyone regardless of age, disability, sex, gender reassignment, sexual orientation, pregnancy and maternity, race, religion or belief and marriage and civil partnerships.
Posted on:
03 August 2022
Closing date:
19 August 2022 at 23:59
Tags:
Campaigning, Policy/Research