£17.03 - £19.08 per annum + £17.03 + holiday ph (£19.08 premium)
Job description
Your new company

This independent regulator of the UK's 710,000 registered nurses, midwives and nursing associates, are seeking an interim Hearings Coordinator, to join them on an interim basis in early June for 3 - 6 months, initially with a good possibility of extension.

This regulator set the qualifications which students must achieve to step into their first job with the right skills and knowledge to look after patients, mothers, and the public with kindness, skill, respect and compassion. Better and safer care for people is at the heart of what we do, supporting nurses, midwives and nursing associates across the UK to strive for the highest standards. By promoting professionalism, we help to inspire confidence amongst the public and pride amongst nurses, midwives and nursing associates. Held in high regard, they are able to act as leaders in their communities.

Your new role
The Hearings coordinator is the lead staff member responsible for managing the operation of the full range of Fitness to Practise (FtP) hearings and meetings. They are responsible for managing the efficient procedural running of the hearing, whether in a virtual or physical setting, in a highly professional and empathetic way, to enable the Organisation to fulfil its vital statutory obligation to protect the public.
They act as gatekeepers of the organisation's governing powers, providing complex and technical advice on rules and guidance to a wide range of hearing participants; produce comprehensive and very high quality legal determinations; and actively manage the Panel in camera and other key external stakeholders to ensure proceedings are concluded in a timely and professional way, with little or no support.
The Hearings coordinator is, crucially, the public face and ambassador of the organisation for professionals and members of the public involved in adjudication proceedings, providing a vitally important and specialist regulatory role.
Efficient and effective management of the hearing process and environment, in both physical and virtual settings, providing excellent and timely support to everyone involved. Successfully plan and then manage all hearings/meetings to ensure they run as efficiently as possible and within tight time-frames. Having very public and visible accountability for the smooth running of the adjudication event, managing a diverse range of stakeholders.
Having the sole responsibility for the drafting and production of a very high quality, stand-alone public legal document for each hearing/meeting, which fully and accurately reflects the hearing process, the panel's decisions and the reasons for these decisions. Working collaboratively with panel members and the legal assessor to ensure the determination is fit for purpose and public scrutiny. Determinations to be produced as efficiently as possible, and within tight time frames, regardless of their length or complexity. Participation in peer to peer review, quality checking colleague's work prior to publication.
Maintaining and applying in depth, breadth of knowledge and expertise on procedures and relevant case law on a wide range of different Fitness to Practise hearing and meeting types, to help deal with any process or legal issues which may emerge. Drawing the panel's attention to relevant legal guidance. Being accountable for the conduct of hearings, intervening and solving any problems or issues as they arise using your own initiative.
Managing relationships with a diverse range of people, some with competing views and demands. Dealing with vulnerable people in a helpful, empathetic and understanding way, identifying issues and concerns and working with others to address them. Dealing with sometimes challenging and forceful registrants and witnesses with a calm and authoritative manner. Having the sole responsibility for managing the relationships and needs of panel members, professional witnesses and everyone involved in the hearing or meeting, including any public or media observers. Extensive internal liaison with other parts of Professional Regulation, including CPP, Investigations and Screening, to ensure readiness for hearing.
Problem-solving the hearing processes for both physical and virtual events competently and independently, ensuring the smooth and, as far as possible, uninterrupted progress of the proceedings in a highly pressurised environment. Troubleshooting any problems, making any adjustments to the proceedings as necessary. Alerting to and working with IT colleagues to solve any issues affecting the progress of the hearing. Having autonomy and the authority to make on the spot decisions is necessary to maintain the effectiveness and efficiency of the hearing process.
Complying with robust information security, data security and data protection principles and procedures at all times. Responsibility for the appropriate anonymisation of personal details in public documents, to appropriately protect the privacy of the people involved in public hearings. Ensure all decisions and determinations are saved and distributed appropriately. Quality checking documentation to ensure accuracy and quality.
Contributing to the continuous improvement of organisation's fitness to practise processes, including the analysis of data and issues affecting hearings and meetings to identify any problems and seek solutions. Train, supervise and mentor new staff members. Participate in and, in some cases, take the lead on delegated project work to support Professional Regulation objectives, including service and process improvements.
Promote and comply with policies including diversity and equality both in the delivery of services and treatment of others.
Skills and experience required

1. Able to show sensitivity and tact when identifying and working with customer needs and confidential information
2. Well-developed communication skills, demonstrable in written and verbal English
3. Able to work collaboratively as part of a team and with other colleagues
4. Able to manage time effectively whilst working within a challenging environment
5. Demonstrate a high level of integrity, patience, resilience, confidence and professionalism in dealing with pressured, unpredictable and sensitive situations and, at times, differing points of view

What you'll get in return.

This is an interim hybrid position. Following successful completion of two week's training based on-site in Stratford, the role is anticipated to run for 6 months initially with a good chance of extension or opportunity to apply for the role permanently whilst in post.
2 days in the office and 3 days working from home
Interviews are scheduled for the 2nd week of November, with a start set for 2 weeks thereafter.

This organisation are committed to equal employment opportunity regardless of race, colour, religion, sex, national origin, sexual orientation, age, marital status, pregnancy, maternity, disability, or gender identity. They particularly welcome applications from sections of the community which are currently under-represented within their teams, including applicants who identify as Black, Asian and Minority Ethnic (BAME).


What you need to do now

If you're interested in this role, click 'apply now' to forward an up-to-date copy of your CV.
If this job isn't quite right for you, but you are looking for a new position, please contact us for a confidential discussion on your career.
Hays Specialist Recruitment Limited acts as an employment agency for permanent recruitment and employment business for the supply of temporary workers. By applying for this job you accept the T&C's, Privacy Policy and Disclaimers which can be found at hays.co.uk
More about Hays Specialist Recruitment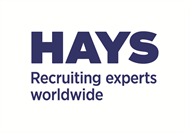 Whether you are looking for the right person or the right job, talk to a Hays expert first. Working with Hays gives you the reach and resources...
Read more
Posted on:
25 October 2023
Closed date:
22 November 2023 at 15:53