London, Greater London (On-site)
Job description
The Helen Bamber Foundation (HBF) is a specialist UK charity which provides expert care and support for refugees and people seeking asylum who have experienced extreme human cruelty such as torture or human trafficking. We work with hundreds of clients every year from all over the world. HBF delivers a specialist Model of Integrated Care that addresses the complex needs and vulnerabilities of survivors.
The expertise of the Foundation is renowned in the field. Through the Model of Integrated Care, the HBF offers survivors access to an individually tailored programme of specialist therapy, medical advisory services, legal protection including providing expert medico-legal documentation, welfare and housing support, and creative and skills activities within an integration programme. Survivors of human trafficking, benefit from HBF's counter-trafficking programme of support.
The Role
This is an opportunity to join HBF's specialist multi-disciplinary team, working alongside experts in asylum and immigration law, and trauma informed ways of working. The purpose of this role is to work with clients and their legal representatives as they navigate the UK's asylum system and support clients with their modern slavery/trafficking claims. The legal protection coordiator will work in HBF's legal team, while also liaising with the multi-disciplinary team to manage practical client needs and ensure expert collaborative working.
Equal Opportunities
HBF is an equal opportunities and Living Wage employer. We are committed to attracting and recruiting diverse candidates as we are keen to make sure that our staff, trustees, volunteers and ambassadors reflect the communities we serve and the wider community we work in at every level within the organisation. We particularly welcome applications from Minority Ethnicities.
As is the nature of work in this sector, the role will expose the postholder to traumatic and distressing material and, whilst they will be supported by their line manager and the surrounding team, they should also be able to demonstrate knowledge of the self-care principles needed to manage working in an intense work environment and be able to collaborate in the dissemination of those principles to other members of the team.
The successful applicant will be part of the multi-disciplinary team in a human rights and clinical organisation and will therefore have contact with vulnerable service users. During the COVID-19 pandemic, it has been necessary to take significant steps to protect the health and safety of our staff, service users and those attending our sites. In order to comply with our duty of care, we require our staff to have the COVID vaccine and we may ask for proof of vaccination during the recruitment process. Vaccination will be a condition of employment unless an exemption applies.
Please note that the successful candidate will be offered the job subject to suitable references and an enhanced DBS check. If appointed, you will be required to give your consent to HBF to receive regular updates on your criminal records status throughout your employment.
Please submit an up-to-date CV and covering letter by 5pm on Monday 18th July 2022. Your application should outline your relevant skills and experience, as well as how your previous experience that matches the listed responsibilities and person specifications. Interviews will be held during the week of 3rd August 2022.
Please state in your covering letter when you would be available to start the role.
For any queries about the role, please direct them to Kat Hacker, Director of Legal Protection & Client Services.
We regret that we can only respond to applicants who make it to the interview stage. No agencies.
More about Helen Bamber Foundation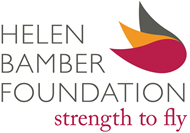 The Helen Bamber Foundation (HBF) is a pioneering Human Rights charity supporting refugees and asylum seekers who are survivors of trafficking ... Read more
Closed date:
18 July 2022 at 17:30
Tags:
Legal, Support Worker
The client requests no contact from agencies or media sales.