Income Generation Officer
Manchester, Greater Manchester (Hybrid)
Job description
LGBT Foundation is looking for an Income Generation Officer. The postholder will work closely with the Fundraising Coordinator (Supporter Engagement), and the wider fundraising team, helping to ensure LGBT Foundation achieves its ambitious income targets to enable us to provide our life changing and affirmative services. Responsibilities for this varied role will include:  
Proactively developing Charity Challenge income streams, including pinpointing new and exciting
challenges for participants to engage in, attending challenge events, helping to promote Charity
Challenges on social media and supporting participants through bespoke Charity Challenge journeys. 
Supporting with the administration of internal CRM systems and financial reconciliation of records
for self-generated income 
Supporting the Fundraising Coordinator (Supporter Engagement) with wider fundraising responsibilities. 
Being the first point of contact for all fundraising queries, ensuring that they are dealt with in a
prompt and efficient manner, looking after the income generation mailbox, returning telephone calls, etc.  
Undertaking administrative functions relevant to income generation, such as keeping internal systems
up to date, writing briefings, data input, co-ordinating, agenda setting and minute-taking at meetings.
Our Income Generation Officer will need to be proactive, cool under pressure, organised, and adept at
coordinating people and projects. They will need have a high level of emotional intelligence and resilience and be confident in speaking to a range of both internal and external stakeholders. Flexibility is key with a motivated
attitude to work; be confident in your communication skills; and work with a high level of integrity.  
We are taking positive action to encourage applications from people of colour (PoC) and other racially minoritised communities, trans, non-binary and/or older people (aged 50+), to improve the representation of colleagues from these communities in our staff team.
* Trans is an umbrella & inclusive term used to describe people whose gender identity differs in some way from that which they were assigned at birth; including non-binary people, cross dressers and those who partially or incompletely identify with their sex assigned at birth.
More about LGBT Foundation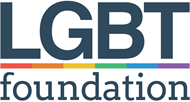 LGBT Foundation, formerly known as The Lesbian & Gay Foundation (The LGF), is a national charity delivering a wide range of service...
Read more
Posted on:
06 November 2023
Closed date:
24 November 2023 at 23:59