Up to £20000 per annum + £3500 London Allowance if applicable
Job description
Job Title: People Systems Administrator
Salary: £20,000 per annum (plus £3500 London Allowance if applicable)
Hours/Contract: 35 hours per week
Contract Type: Fixed term - 12 months
Based: Flexible - UK (home based)
Closing date: 4th July 2022
Interview date: TBC
This role will support the People Services Operations Team covering HR, Recruitment and Volunteering Operations in the administration of Human Capital Management system.
This role will work very closely with Marie Curie's central Oracle Support Team as well as key staff in the Finance functions.
What we are looking for:
A confident and friendly team player
Experience in database system administration is desirable
Experience of working within a fast-paced environment and meeting deadlines is key
Great attention to detail is a must, as is willingness to learn and lead in line with our Marie Curie values and team ethos
You will have excellent communication and organisational skills with a commitment to delivering a consistent five-star service
Strong administrative skills
What's in it for you:
Continued access to NHS Pension Scheme (subject to eligibility)
Marie Curie Group Personal Pension Scheme
Season ticket loan
Loan schemes for bikes; computers and satellite navigation systems
Continuous development
Industry leading training programmes
Employee Assistance Programme
Flexible Working
Marie Curie is committed to its values, which underpin our work. We take stringent steps to ensure that the people who join our organisation through employment or volunteering are suitable for their roles and are committed to safeguarding all our people from harm. This includes our staff, volunteers and all those who use or come into contact with our services. We are dedicated to creating not just a safe place to work but also a supportive and rewarding one.
We are committed to a world where everyone can thrive and fulfil their potential. We are devoted to the social justice imperatives and organisational benefits of full diversity, inclusion and equity in the workplace, and are a Stonewall champion. We actively encourage and welcome applications from candidates of diverse cultures, perspectives and lived experiences.
We reserve the right to close this vacancy early. Agencies need not apply.
About us:
Every day of your life matters - from the first to the last. When you work for Marie Curie, you understand that better than ever. We're a passionate, committed and diverse team of more than 4,400 staff and 12,000 volunteers, here for people living with any terminal illness, and their families. We offer expert care, guidance and support, to help them get the most from the time they have left.
Everyone knows our daffodil, but it's our warmth, creativity and care that touch lives. Here, we take the time to really get to know the people we care for and those who love them. And we do whatever it takes to give them the final days and hours they deserve.
More about Marie Curie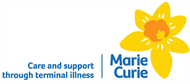 Every day of your life matters - from the first to the last. When you work for Marie Curie, you understand that better than ever. We're a p... Read more
Closed date:
05 July 2022 at 13:40