Retail Manager South Bridge
Job description
Title: Retail manager
Salary: £20,053 per annum
Hours/Contract: Permanent, 35 hours per week
Based: South bridge Shop
Closing date: 4 December 2023
Interview date: TBC

Our store manager is the most senior member of our team and will work closely with our retail district managers focusing on leading our people, products and culture, whilst driving sales and creating long term relationships with our customers.

You will be accountable for achieving maximum sales within the shop ensuring that direct costs are kept to a minimum. Using best charity retail practice, creative flair, and an ability to lead by example, you will enable the shop team to create an inviting shop which encourages sales and promotes excellent customer service.

Key responsibilities include maximising sales by maintaining high standards of display and layout in the shop and shop windows, ensuring that stock density is maintained, regular rotation of stock is carried out and that maximum realistic prices are obtained on donated items, in accordance with charity guidelines, as well as Bought in Goods.

Gift aid is a vital source of income from donated goods and you should ensure that this is maximised when dealing with customers and donors, ensuring that excellent customer service is provided at all times. You should also ensure that high standards of cleanliness are maintained throughout the shop including the sales floor, stock processing area, offices and communal areas. You and your shop team will support the Area Manager in suggesting and implementing local initiatives to maximise sales and generate stock donations.

You will also support the recruiting, training and management of staff and volunteers leading by example providing regular updates to everyone involved, sharing good practice and promoting charity procedures and guidelines.
If you have a flair for retail and a real passion to work for a charity that really does make a difference to people, day in, day out, we want to hear from you.

What we are looking for:
· Good interpersonal skills and a passion for our brand
· A driven individual, who strives to maximise profit through achieving targets
· Experience in retail management, as well as the coaching and development of staff
· Patience, empathy and the ability to lead the team by example
· A can do attitude, with a good level of English, Mathematics and computing skills
· An emotionally intelligent individual, who is eager to learn and develop in the role

What's in it for you:

· Continued access to NHS Pension Scheme (subject to eligibility)
· Marie Curie Group Personal Pension Scheme
· Season ticket loan
· Loan schemes for bikes; computers and satellite navigation systems
· Continuous development
· Industry leading training programmes
· Employee Assistance Programme
· Flexible Working

Marie Curie is committed to its values, which underpin our work. We take stringent steps to ensure that the people who join our organisation through employment or volunteering, are suitable for their roles and are committed to safeguarding all our people from harm. This includes our staff, volunteers and all those who use or come into contact with our services. We are dedicated to creating not just a safe place to work but also a supportive and rewarding one.

We are committed to a world where everyone can thrive and fulfil their potential. We are devoted to the social justice imperatives and organisational benefits of full diversity, inclusion and equity in the workplace, and are a Stonewall champion. We actively encourage and welcome applications from candidates of diverse cultures, perspectives and lived experiences.

This role will be subject to receiving a satisfactory basic criminal record check.

We reserve the right to close this vacancy early. Agencies need not apply.
More about Marie Curie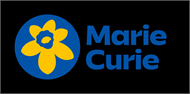 Every day of your life matters - from the first to the last. When you work for Marie Curie, you understand that better than ever. We're a p...
Read more
Posted on:
21 November 2023
Closed date:
04 December 2023 at 10:45