£17290 - £18018 per annum
Contract, 12 month, Full-time
Job description
Title: Support Line Officer
Salary: £17,300 per annum (pro rata for part time)
Hours/Contract: 35 hours per week
Contract Type: 12 months fixed term
Based: Cardiff, Swansea and Bridgend (remote)
Closing date: 7th July 2022
Interview date: TBC

The Marie Curie Information and Support Service provides vital assistance for people affected by terminal illness across the UK. We are looking for an additional Support Line Officer to join us and offer some much-needed support to those who need it at a critical time in their lives.
As a key member of the team, you will offer personalised support by providing a listening ear, sharing information and signposting. Our Support Line Officers are not counsellors and are not medically trained, but they are in place to provide a professional service to all enquirers and to reassure and support people at a very difficult time.
You will respond to an array of enquiries from people with a terminal illness or from their family, friends or professionals. Enquiries can range from practical questions about finances or legal arrangements to accessing Marie Curie services, to more emotional enquiries, including grief and loss. You will use the Marie Curie Information and Support resources and other trusted sources (predominantly online) to answer questions, discover information and signpost enquirers to the information they need. This can be by phone, web chat, and other channels, moderating our online community, and carrying out ad hoc project work to develop the service.

What we are looking for:
- You need to have excellent communication skills, a warm heart and a caring and compassionate soul.
- With a genuine interest in helping others, you are patient, adaptable and know how to deliver an excellent customer experience.
- Whilst this can be challenging at times, if you are patient, resilient and a great listener, you will excel in this role.
- Whilst the successful candidate will spend a considerable amount of time on the phone, there is also an administrative element, so a background in office administration would certainly be beneficial.
- All necessary training and supervision is provided to support you in this role.
- Ideally you will come from a charity, health or social care background or have demonstrable customer service experience from another industry (such as a contact centre).
- Experience in a customer care / helpline or telephone support role is beneficial.

What's in it for you:
- Continued access to NHS Pension Scheme (subject to eligibility)
- Marie Curie Group Personal Pension Scheme
- Season ticket loan
- Loan schemes for bikes; computers and satellite navigation systems
- Continuous development
- Industry leading training programmes
- Employee Assistance Programme
- Flexible Working


Marie Curie is committed to its values, which underpin our work. We take stringent steps to ensure that the people who join our organisation through employment or volunteering, are suitable for their roles and are committed to safeguarding all our people from harm. This includes our staff, volunteers and all those who use or come into contact with our services. We are dedicated to creating not just a safe place to work but also a supportive and rewarding one.
More about Marie Curie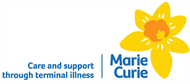 Every day of your life matters - from the first to the last. When you work for Marie Curie, you understand that better than ever. We're a p... Read more
Closed date:
08 July 2022 at 11:21
Tags:
Business Development