Barnet, Greater London (Hybrid)
£30,000 - £40,000 per year
Job description
JOB DESCRIPTION
Noah's Ark Children's Hospice has been on a major upward trajectory in recent years, supporting more children, partnering with more major hospitals and raising more funds. Our Major Donor and Trust programmes have been particularly successful. We are now transforming our approach to supporter engagement in order to diversify the charity's fundraising income and help Noah's Ark reach its ambitious strategic objectives. Most pertinently, over the next three years we will increase the number of individual supporters donating monthly to the charity from 250 to at least 2,500.
We're looking for a rising star with a track-record of high performance to join our award-winning fundraising team during a pivotal period in the charity's history. As well as playing a lead delivery role, the Supporter Engagement Manager will be very involved in strategy development – working alongside other key team members to make decisions on direction of travel .
The successful candidate will manage and develop our Supporter Engagement Officer and Community Engagement Officer - both have their own portfolio of supporters and the former is responsible for the day-to-day management of our database.
ABOUT YOU
Most importantly, we are looking for somebody with the right mindset. You'll be hungry and enthusiastic when it comes to your career, and looking for a charity which can support you in pushing forward in a busy and responsible role. We are a very supportive and colloborative team, so a track record of coming to work with a 'can-do' attitude and ability to develop constructive and positive relationships will be key.
You will:
be a natural relationship builder who is full of personality and enjoys meeting and speaking with supporters.
have a keen eye for detail and experience of using data insights from a fundraising database to inform decision-making.
ideally have significant experience in supporter care and retention but the salary range is wide, so if you are less experienced but have a track record of high achievement in your career so far and back yourself to develop quickly in areas outside of your comfort zone, please do apply and we will consider your application on its merits.
have confidence in your ability to upskill in community group fundraising and legacy giving, should these not currentluy be areas of focus for you
preferably have excellent writing skills (this a strong desirable, rather than an essential criteria)
More about Noah's Ark Children's Hospice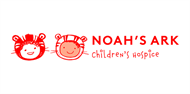 Noah's Ark Children's Hospice helps seriously unwell children and their families make the most of the special time they have together. ... Read more
Closed date:
24 July 2022 at 23:59
The client requests no contact from agencies or media sales.