£70000.00 - £73000.00 per annum
Job description
Financial Planning Manager. London | Hybrid Working. Up to £73,000 + Benefits
For a large UK wide building and construction company, we are recruiting a Financial Planning Manager to lead on the provision of investment appraisal modelling and advice, and the formulation of innovative and robust financial initiatives alongside detailed financial models. Reporting the Head of FP&A, the Financial Planning Manager will be responsible for the building and development of complex financial and business models for the whole Group and its subsidiaries as well as leading and developing an FP&A team of 4 Analysts.
What you'll be doing:
Support the Group in assessing the long-term financial impacts of key operations and business objectives
Re-build the short, medium, and long-term financial models currently held in Excel
Produce long-term financial plans and detailed statistical analysis on new business activities
Support the appraisal of new financial planning, capital development, asset management and project activity across the group
Lead the design, development and implementation of financial and analytical models and systems.
Implement solutions to manage complex data to drive improvements in reporting
Lead and manage the 4 FP&A Analysts
Work collaboratively across the senior leadership team to tailor models and reporting for their requirements
What you'll offer us:
Qualified Accountant with proven track-record in financial modelling and analysis
Experience of innovative and new and improved ways of working
Expert-level Excel, VBA, Power Query and Power Pivot
Strong leadership experience across FP&A for large, multi-group companies
Strong staff management and leadership experience
Ideally Power BI experience
Strong financial modelling of integrated statements, forecast cashflows, equity investments and financing
Presentation and communication of financial models
What we'll offer you:
Excellent rewards package including competitive salary
Generous annual leave entitlement as well as paid an unpaid leave
Generous maternity and paternity allowances and paid leave for carers and new grandparents
Market-leading employers pension contribution rates
Family-friendly and flexible working pattern
Excellent career pathways and promotion opportunities across the group
________
As an employer, we are committed to ensuring the representation of people from all backgrounds regardless of their gender identity or expression, sexual orientation, race, religion, ethnicity, age, neurodiversity, disability status, or any other aspect which makes them unique. We welcome applicants from all backgrounds to apply and would encourage you to let us know if there are steps, we can take to ensure that your recruitment process enables you to present yourself in a way that makes you comfortable.
More about Pro-Finance Recruitment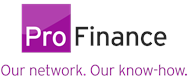 About Pro-Finance Recruitment
Our dedicated Charity Consultants within our P... Read more
Closed date:
29 July 2022 at 17:10