Job description
HR Administrator
Stratford, East London - Hybrid
Temporary
A housing association are seeking a HR Administrator to support a very busy HR team and function. This is an immediate start for around 12 weeks initially, with possibility of a FTC or permanent role after
You will support the delivery of a responsive HR Service by assisting and supporting the HR team. Provide a centralised administrative service encompassing the complete HR, Payroll and On-boarding lifecycle to new and existing staff, (including TUPE). First line support for the rest of the HR team.
The role will be in Stratford, London for 2 days a week, the rest home working. This is a great organisation who have been voted from of the best in the UK to work for. To be considered for this role you will have some HR Administrative experience and be available immediately
________
As an employer, we are committed to ensuring the representation of people from all backgrounds regardless of their gender identity or expression, sexual orientation, race, religion, ethnicity, age, neurodiversity, disability status, or any other aspect which makes them unique. We welcome applicants from all backgrounds to apply and would encourage you to let us know if there are steps, we can take to ensure that your recruitment process enables you to present yourself in a way that makes you comfortable.
More about Pro-Finance Recruitment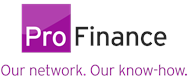 About Pro-Finance Recruitment
Our dedicated Charity Consultants within our P... Read more
Closed date:
20 July 2022 at 10:57