Partnerships Development Manager
London, Greater London (Hybrid)
Job description
Prospectus is excited to be supporting Barnardo's a UK children's charity with their search for two Partnership Development Managers.
Barnardo's runs over 1,000 UK projects that transform the lives of almost 300,000 children and young people every year. They believe they can bring out the best in every child regardless of the issues they face. Their work supports children living in poverty, children that have been sexually exploited, children living with a disability, children living with domestic violence and young carers who look after an ill parent or relative.
As the Partnership Development Manager, you will be responsible for nurturing existing and new relationships with potential corporate partnerships to secure new business. Predominantly focusing on partnerships capable of fundraising six to seven-figures, this role will focus on building long lasting partnerships with businesses that reflect and support the varied work Barnardo's do. Working with a team, this role will collaborate well with others to pitch for new business and create compelling business development plans.
The successful candidate will have proven experience in securing six or seven-figure corporate partnerships for fundraising purposes. This person will need be a confident communicator and have evidence of pitching for new business with both existing and new relationships. Ideally, this person will also be comfortable working both in a team and autonomously at other times.
This role is a full-time permanent position that will have hybrid working between home and one of their office hubs.
At Prospectus we invest in your journey as a candidate and are committed to supporting you with your application. We welcome all candidates to apply, regardless of age, sex/gender, disability, race, religion, sexual orientation, marital status or pregnancy/maternity. If you have any disability and require reasonable adjustment/s to any part of the process then please contact Rhiannon Mehta at Prospectus.
If you feel you meet some of the criteria but not all, we really hope you'll enquire and learn more. Prospectus can advise and support on each part of the role and hopefully your application, so we look forward to hearing from you.
In order to apply please submit your CV in the first instance. Should your experience be suitable, we will arrange for a meeting to brief you on the role. You'll then have all the information you need to formally apply. We are looking forward to connecting with you soon.
More about Prospectus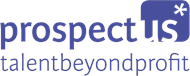 We believe our clients change the world for individuals, communities and society. For over 60 years Prospectus has been working across the UK a...
Read more
Posted on:
09 November 2023
Closed date:
26 November 2023 at 23:59