London, Greater London (Hybrid)
£38,000 - £43,000 per year
Job description
Prospectus is delighted to be working with Hand in Hand International in their search for a Project Manager, playing a vital role in leading the delivery of a portfolio of projects including a large, multi-year partnership supporting women entrepreneurs in East Africa. This role is offered as a permanent contract with hybrid work (3 days a week in the office).
At Hand in Hand they can help women beat the odds and succeed as entrepreneurs. The money women earn and the confidence they gain changes everything. Whole families and communities rise with them. Since 2003, from Afghanistan to Zimbabwe, Hand in Hand helped 4.6 million women launch small businesses that can stand the test of time. Some are smallholder farmers learning to stand up to climate change. Some are refugees starting a new life after running from conflict.
Reporting to the Programme Development Manager and working closely with in-country staff, the Project Manager will ensure that activities across projects are on track and achieving their key milestones. The post holder will be responsible for ensuring that monitoring and impact measurement activities are delivering high quality data and outputs, and that the general requirements of project stakeholders are being met. You will manage the reporting of the portfolio of projects and you will support research and evaluation for internal and external stakeholders as needed. The Project Manager will also oversee the relationship with key funders and will be their main point of contact.
We are looking for an experienced project/programme manager with a thorough understanding of women empowerment, international development and/or human rights project life cycle. You will have significant experience of managing large, complex projects with direct experience of tools such as logframes, workplans, risk matrices, and similar. The post holder needs to have in-dept knowledge of monitoring, evaluation and learning as well as previous experience of engaging with large funders.
As a specialist Recruitment Practice, we are committed to building inclusive and diverse organisations, and welcome applications from all sections of the community. We invest in your journey as a candidate and are committed to supporting you in your application.

In order to apply please, submit your CV in the first instance. Should your experience be suitable, we will send you the full job description and will arrange for a call to brief you on the role.
More about Prospectus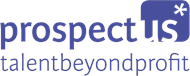 We believe our clients change the world for individuals, communities and society. For over 60 years Prospectus has been working across the UK a...
Read more
Posted on:
17 November 2023
Closed date:
06 December 2023 at 23:59