Senior Philanthropy Manager
£44,000 - £46,000 per year
Job description
Prospectus is delighted to be supporting Lumos with their search for a Senior Philanthropy Manager Head of Partnerships to join their new fundraising team.
Lumos is an international children's charity founded by J.K. Rowling to end the systematic and harmful practice of the institutionalisation of children. Their vision is a world in which all children have the opportunity to grow up and thrive in a safe and caring family or, where there is no alternative, in specialist placements that meet all needs, respects all rights and ensures all children can fulfil their potential.
The Senior Philanthropy Manager sits in the Partnerships Team, an ambitious, high-growth team which oversees income generation from: Trusts and Foundations, Philanthropists and Corporate supporters. As Senior Philanthropy Manager you will identify, cultivate, secure and steward major gifts from existing and prospective donors who can support Lumos at the five and six figure level. In your role you will build and foster positive relationships with philanthropic donors and grant-making organisations, providing excellent stewardship and account management. As an experienced philanthropy professional, you will also work collaboratively with colleagues to support the redirection of philanthropic capital away from orphanages and institutions and towards global care reform.
To be successful you will have an excellent understanding of complex relationship-based fundraising from high-net worth individuals and / or grant-making organisations and will be able to develop and lead positive and influential relationships with existing and potential donors. You will have strong interpersonal and communication skills, with the ability to build rapport with donors and colleagues. A passion for the cause will of cause be essential too!
At Prospectus we invest in your journey as a candidate and are committed to supporting you with your application. We welcome candidates from a diverse range of backgrounds. Please let us know if we can help you with the application process in any way. We are more than happy to make any reasonable adjustments to enable all interested candidates to apply. If you have any disability and would like assistance with completing an application then please contact Jessica Stoddart at Prospectus.
If you are interested in applying to this Head of Partnerships position, please submit your CV in the first instance. Should your experience be suitable, we will send you the full job description and will arrange for a call and/or meeting to brief you on the role. You'll then have all the information you need to formally apply. We are looking forward to connecting with you soon.
More about Prospectus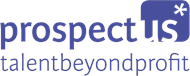 We believe our clients change the world for individuals, communities and society. For over 60 years Prospectus has been working across the UK a...
Read more
Posted on:
20 November 2023
Closed date:
24 November 2023 at 09:00
Tags:
Fundraising, Senior Management