Job description
About the role
This is a key senior role within the Reset Team. You will lead our organisational operations across finance, HR, IT, logistics and administration. This is a new role at Reset, recognising that as we grow at Reset we need a skilled and designated function to ensure we are operating effectively to be able to grow community welcome of refugees through Community Sponsorship, Neighbours for Newcomers and Homes for Ukraine.
You will be responsible for the smooth-running of Reset's finances, HR and logistics, with an important reporting function to funders and the Reset Board. You will be part of Reset's Senior Management Team, together steering both day to day response to emerging issues and strategic development. In that role, you'll ensure the SMT's decision making is informed by a strong understanding of financial position and organisational liabilities. You will play a key role in curating Reset's move from a single funder to a flexible and responsive financial base across multiple income-streams.
Responsibilities
Finance (45% of time)
Develop organisational and project budgets and projections
Deliver accurate financial reporting for funders, the Board and the SMT
Project/service financial modelling to feed into project development discussions
Ensuring financial policies and processes are in place and up to date
Ensuring all income and expenditure is correctly processed and logged using our accountancy software, accounts reconciled, and payments set up with the correct authorisation procedures followed
HR (20% of time)
Liaison with outsourced HR expert helpline as required
Ensuring HR related processes and policies are in place and up to date
Liaison with organisational payroll provider
Administration of pension, NI, childcare vouchers and other personnel-related payments
Oversight of recruitment and advertising for new roles
Supporting organisation-wide processes for job-description updating and pay review
IT and Logistics (20% of time)
Ensuring our staff, all home-based, have the equipment, furniture and software that they need to work safely and effectively from home
Ensuring our IT infrastructure, including organisational database, licenses (via Microsoft 365), and cross-team software packages are fit for purpose and maintained
Acting as system administrator for IT services
Providing IT support to staff as required
Liaising with web server providers, ensuring smooth running of Reset's web presence
Completion of organisational move to remote working through securing long-term future for material currently in storage
Executing logistical arrangements for in-person activity, such as quarterly in-person team meetings and Board meetings
Compliance (10% of time)
Ensuring policies and practices are in place in relation to organisational legal responsibilities such as health and safety and data compliance
Ensuring governance-related compliance in relation to our Charities Commission and Companies House registrations
Carrying out due-diligence on Reset's funders
Providing cross-team support and consistency in relation to procurement, grant agreements and negotiation of other contractual arrangements
Team administration (5% of time)
Line-management of the p/t Team administrator
Other reasonable ad hoc duties as required in a small team
About you
Essential Experience/Skills
Significant experience of organisational finance systems
Experience of developing organisational and project budgets across multiple income streams
Experience of financial reporting
Experience of using standard accounting software packages
Advanced excel skills
Excellent written and verbal communication skills
Strong administrative and organisational skills
Excellent attention to detail
Demonstrable experience of supporting other with the use of a variety of IT equipment and software
Entrepreneurialism, flexibility and willingness to 'muck in'
Desirable Experience/Skills
Experience of working in an HR function
An accounting qualification
Experience of processing payroll
Line Management experience
Experience of working within a charity either as a volunteer or staff member
Application Instructions
Please note that any applications submitted without a cover letter outlining why you would be great in this role will not be considered.
More about Reset Communities and Refugees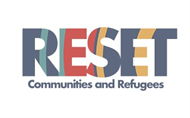 Reset is the charity leading the Community Sponsorship movement throughout the UK. We're working to help communities and groups reset... Read more
Refreshed on:
12 July 2022
Closed date:
17 July 2022 at 23:30
Tags:
Senior Management, Operations
The client requests no contact from agencies or media sales.