Milton Keynes, Buckinghamshire, South East (On-site)
Job description
We are recruiting for a Resource Coordinator for a 1 year fixed term contract to support the two Operations Managers at Different Strokes, Milton Keynes for services and development.
Different Strokes was set up in 1996, and is the only user led charity supporting working age and younger stroke survivors in the UK. Our vision is a world where all stroke survivors, their carers and friends achieve their ambitions and reclaim their lives. To achieve this we develop and provide peer led services to stroke survivor, their families and friends, harnessing their knowledge and experience for empathic and practical support for the benefit of other stroke survivors and supporters.
The existing services we offer are: a national network of exercise and support groups; a practical easy to use information pack for the recovering stroke survivor and their family; a 'Strokeline' manned by trained younger stroke survivors who provide peer support, and practical advice; a supportive interactive Facebook group; newsletters on the developments in treatment and rehabilitation; a voice for younger stroke survivors to Government, service providers and funders in seeking to gain better standards for stroke survivors.
This role will act as a point of contact for our exercise and support groups, as well as capture data on the impact of groups on the lives of recovering stroke survivors and their families. There will be opportunities to assist with the development of new groups, services, information and events.
In addition, there will be opportunities to help with developing accessible information and leaflets, as well as promoting social media channels. This will involve monitoring and evaluating the ongoing effectiveness of social media, and the website by gaining feedback and collecting data from stroke survivors and their families. Ideally the successful applicant will have a relevant degree in marketing, media, or communications, however, other relevant experience and qualifications will also be considered.
You will have good communication and relationship building skills and an ability to work as part of a small team, which is part of a much wider network of volunteers, and supporters. The ideal candidate will have some previous experience of working in the charitable sector and with volunteers.
You will need to have a driving licence, and access to a car.
This is an interesting, exciting role, with lots of scope for getting involved with projects and activities which could help the right candidate gain a wide variety of experience in organisational development, marketing, media and communications.
Please click on "Application Details" to find how to apply. All applications must be accompanied by a CV in support. The closing date for applications is 13th June, 2016.
This role is funded by Cabinet Office's Local Sustainability Fund and delivered by Big Lottery Fund
More about Different Strokes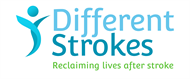 Different Strokes Mission is: Empowering younger stroke survivors and families to reclaim lives and ambitions through active peer...
Read more
Closed date:
13 June 2016 at 23:30
Tags:
Admin, Communications, PR
The client requests no contact from agencies or media sales.