Milton Keynes, Buckinghamshire, South East (On-site)
Up to £17,456pa based on experience
Job description
Creative Support is a national, fast growing not-for-profit organisation providing support to individuals with a wide range of care needs. Our services provide responsive and person centred care which is specific to the needs of the individual. In order to achieve this, we need a workforce that is hardworking and committed to ensuring the best possible quality of life and independence for those we provide this care for.
Creative Support is developing Supported Living services in Milton Keynes. This is a unique opportunity to be involved in establishing and developing a brand new service. We are looking to recruit a full time creative, self-motivating and resourceful individual with a willingness to go the extra mile to provide individually tailored and compassionate support to people with a learning disability in a supported living environment.
You will have a keen insight into the challenges and opportunities that our service users face on a daily basis and have the ability to manage support effectively in all aspects of leading a fulfilling life and positive wellbeing, alongside ensuring personal care is delivered in a dignified and positive manner.
You will be an effective leader, leading by example and embedding the values of opportunity, choice and wellbeing within the services and people you manage, experience of managing supported living services is essential or 2 years experience working in a supported living environment in a support role.
Your responsibilities will also include:
Co-ordinating and supervising the staff team
Ensuring staff implement person centred planning, communication approaches, positive risk management and positive behaviour support guidelines
Enabling service users to live active lives, develop skills, encourage social inclusion and progress towards greater independence
Maintaining excellent working relationships with service users, families and involved professionals.
Working shifts on a 24 hour rota including sleep ins.
Ensuring the services you manage exceed Care Quality Commission expectations
This position offers the opportunity to work in an environment that challenges and encourages personal and professional development. Creative Support has obtained Investors in People Silver status and you will receive ongoing training regarding the client group you work with, managerial qualifications and up-to-date training regarding changes to the law governing social care.
We do not accept CV as a form of application, applicants must submit a completed Creative Support application form which can be requested or downloaded via the listed methods. An enhanced DBS check is required, which we pay for. Creative Support is not a recruitment sourcing agency; all employees are directly employed by our organisation. We do not accept cold calls or sales/marketing contact from recruitment candidate sourcing/advertising agencies. Upon receipt of your application we will email you a confirmation of receipt. If you do not receive this confirmation email please contact us via telephone or email. Contact information can be found on our company website.
More about Creative Support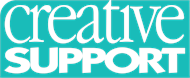 Creative Support is a national, high quality provider of person centred social care services for people with learning disabilities, mental heal...
Read more
Posted on:
28 January 2016
Closed date:
15 February 2016 at 23:59
Tags:
Support Worker, Social Work
The client requests no contact from agencies or media sales.