London, Greater London (Hybrid)
£35,000 per year (plus Cost of Living uplift from October 22)
Job description
Spotlight on Corruption is a UK based charity which aims to end impunity for corruption, promote integrity within the UK, and influence the UK's role in the world in order to reduce the harms caused by corruption. Since it was founded in September 2019, Spotlight has emerged as a leading and influential anti-corruption and pro-integrity expert pressure group. Core to our work is our unique court monitoring program tracking corruption cases in the UK courts.
We are looking for a Communications Advisor with a commitment to our goals to co-ordinate our external and internal communications. This is an exciting time to join our small, dedicated team of experts and this will be a busy, varied and multi-skilled role. We have a full programme of work for the year ahead with projects on illicit finance, integrity in public life, and corporate accountability for financial crime.
Candidates should be exceptional all-round communicators, with significant experience in media relations, public affairs or strategic communications. This could have been gained by working in a communications agency or in a communications role for a charity, for example. The successful candidate will be enthusiastic and proactive, a strategic thinker, an excellent writer and able to apply their skills and experience across a range of different communications channels. They will also have a demonstrable interest in and understanding of corruption and its impacts at home and abroad.
Key Responsibilities:
Co-ordinate Spotlight's day to day communications, working closely with colleagues across the team to turn expert analysis into communicable messages, and to maximise Spotlight's impact.

Monitor corruption issues being reported in the news and work with the Advocacy Advisor to conduct horizon scanning, as well as identifying key communication opportunities.

Develop and maintain engagement with the media, working closely with the team to establish and nurture new relationships, and to secure media coverage of core messages.

Manage and develop Spotlight on Corruption's website, social media accounts and mailing lists, working with colleagues to develop engaging content and to develop strategies for helping our messages reach target audiences.

Draft newsletters, press releases, and website copy, design and work with colleagues to edit briefing papers, and develop other communications materials for a range of audiences.

Co-create communications plans with the team, including around key moments such as the launch of new Spotlight on Corruption reports.

Work closely with communications staff in key collaborating partners to develop joint communications plans and outputs.

Monitor the effectiveness of Spotlight's work, including its press coverage, and social media / other communications channels.

Work with the team to communicate Spotlight's work to funders, the Board and other stakeholders, including helping write grant reports.

Design and format reports and briefings, including finding visual content and developing templates.

Undertake other activities to support the organisation including: assisting with fundraising; liaising with other anti-corruption NGOs and stakeholders; and providing support to the director and wider organisation as required.
Relevant skills, competences and experience:
Essential:
One year + experience in a communications role.

Exceptional written and verbal communication skills, including a proven ability to communicate complex issues to a lay audience.

Significant experience writing and editing communications materials such as articles, website content, reports, briefings and/or press releases.

Strong organisational and administrative skills including an ability to manage and update websites.

Understanding of how to use social media to target key audiences.

Good understanding of the relevant UK media landscape, including of what makes a successful news story.

Proven track-record of being proactive and using own initiative while maintaining strong communication with team members.

Experience of developing and implementing successful communication plans.

Demonstrable understanding of anti-corruption issues, a passion to influence and an understanding of how to do so.

Automatic right to work in the United Kingdom.
Highly desirable - strong candidates will likely have one or more of the following:
Experience of using social media, websites and/or newsletters to achieve communication goals.

Detailed understanding of anti-corruption and/or economic crime issues, including of their impact on governance, democracy and development.

Ability to design and format reports and communicate data and information using infographics, data visualisation, and/or short videos.

Demonstrable understanding of effective monitoring and evaluation of impact.

Experience managing internal communications within small organisations.
Please note that if you have not heard from us two weeks after the close of the application deadline, it is because we are unable to offer you an interview. We are unable to provide feedback on applications that do not make it through to interview due to our small size.
Application Instructions
Please outline clearly in your covering letter how your experience and skills fits with the person specification, and your motivation for applying for the job.
More about Spotlight on Corruption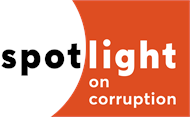 Spotlight on Corruption works to end corruption within the UK and wherever the UK has influence.
Our vision is for a society where st...
Read more
Closed date:
14 August 2022 at 23:30
Tags:
Campaigning, Communications, PR
The client requests no contact from agencies or media sales.