Bristol, Bristol City (On-site)
£27,261 - £31,496 per year
Job description
Are you passionate about supporting our clients on their journey to recovery?
This post is offered as a fixed term contract until 9 July 2024.
We are looking for someone to join our Mental Health Floating Support Team as a Floating Support Worker; working across North and East Bristol you will be joining a team busy developing a 'Help When You Need It' approach, providing time limited key working support to clients for up to a year at a time.
This is an excellent opportunity to join a supportive team working environment, you will receive motivational support and supervision, relevant training and reflective practice to ensure you can provide the best service to our clients and manage your own wellbeing.
As a Floating Support Worker, you will manage a case load of around 16 clients, ensuring that each client is provided with person centred support and empowered to make positive changes in their lives.
You will work within clients' homes and in the community, providing advice and support to clients and ensuring they are able to access health care and improve their mental and physical health; sustain their housing and build a home; access work, training, and other opportunities; be active in their community and develop strong support networks to support ongoing recovery.
About you
We are looking for people with Ideally you will have a background in housing related support and /or mental health or supporting other social needs, however we recognise the value in transferable skills if you can demonstrate the below:
Excellent communication skills with a keen interest in supporting people to maximise their independence and recovery.
Your client engagement skills are equally as important as your organisation and prioritisation skills; to be able to support a caseload of clients whilst moving clients through service as quickly and safely as possible.
Above all we are looking for inspirational, committed individuals who have a genuine desire to work with a person centred approach to support people to transform their lives.
How to apply
To view the job description and guidance on completing your application form, please click on the 'document' tab on the advert page on our website.
To find out more and apply please go to the St Mungo's careers page on our website.
Closing date: 10am on 27 November 2023
What we offer
Excellent Development and Growth Opportunities
A Diverse and Inclusive Workplace
Great Pay and Other Benefits
More about St Mungo's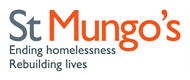 Our vision is that everyone has a place to call home and can fulfil their hopes and ambitions.
As a homelessness ch...
Read more
Posted on:
15 November 2023
Closed date:
27 November 2023 at 10:00
Tags:
Social Care/Development, Support Worker